Thanks to some unexpected summer rain and cooler temperatures (caused by a tropical storm) I was able to turn off the sprinklers and drip system for days, saving us money on our water bill. I also opened the windows in the mornings and was able to cool the house for a while in the morning instead of running the air conditioner, saving on our electric bill. I am also hoping that the cooler temperatures cause our plants to flower again in the garden, meaning more food for us It was around 96ºF during the day and 78º at night, which is much cooler than usual for us. Usually this is the hottest time of year.
I received the electric bill last week, and I was happy to see that despite yet another price increase, my bill for August was $50 less than it was for July. The electric company has been raising rates every quarter for nearly a decade here; since purchasing this house 7 years ago rates have gone up 28 times. I lowered our bill over $250 a month from the first summer despite all of that, but as the rates continue to increase, it is catching back up to what it was the first year that we moved here, despite that fact that I am using less electricity. Earlier this month I moved the thermostats to not go on until it reaches 81º in the house, and because it didn't have to run all night (like it usually does) at that temperature, it made a big difference.
I saw a few female melon flowers and one female cucumber flower in the garden, so I hand-pollinated those. I also pulled off several tent caterpillars by hand and stepped on them. I've never seen tent caterpillars in my garden before. They move very quickly!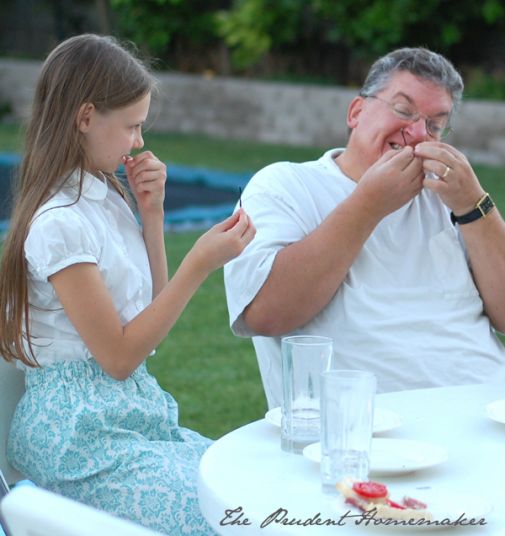 We enjoyed an alfresco dinner on our back patio. My husband taught the children his magic string trick with a burnt match. He showed it to them over and over and it was so convincing that when he told Winter that his magic string magically returned to his pocket when he was done, she reached over to get it out! Then he told her only he could retrieve it!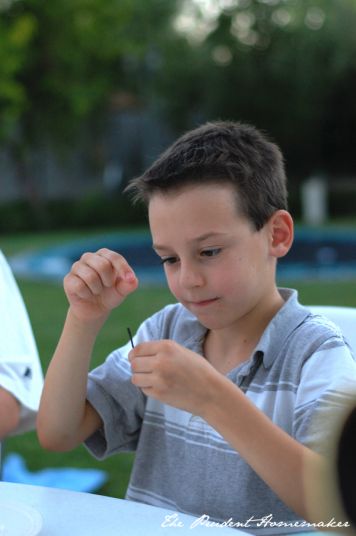 After lots of wonderings, he explained it to them and showed them how to do his magic string trick (which involves a burnt match, and there is no string involved! It just looks like he is tying an invisible string).
I made French bread, rosemary olive oil bread, blueberry pear muffins, rosemary breadsticks, Belgian waffles, herb roasted chicken, bean chili, homemade rice a roni, spaghetti, Swiss chard soup, minestrone soup, a pear and cherry tart, and cucumbers in vinegar twice (I saved the vinegar/water mixture in the refrigerator to use for the second batch).
I made fried chicken. I cut up two bone-in breasts and divided it between the 9 of us; they were around 2 pounds total (which makes for a more expensive meal for us than most, but we also had lots of less expensive meals to help offset the cost). When I fry chicken I don't deep fry it; I put 1/4″ of oil in the bottom of the pan and I turn the chicken regularly. The chicken was bought on sale and frozen many months ago.
This week from the garden I picked four Armenian cucumbers, one small tomato, Swiss chard for two meals, rosemary, a small amount of red noodle beans, chives,
I cut white zinnias from the front garden and a few red zinnias from the backyard for our table.
We did some more repairs this week. I mended the hem of a shirt, turned a pair of torn pants into shorts and mended the holes in them, and mended a towel.
It turned out that one of the bicycle needed a new inner tube, and the other ended up getting a big hole in the tire after Liberty rode over a rock. My husband pulled the inner tune out of one of the other bicycles that was the same size and replaced it. Three of my girls watched while he did it and he explained it to them.
We had another couple of bicycles that we had been given for parts. My husband took the seat off of one to put on a different bicycle for Liberty, cut off the sticky handlebar grips (they looked to have melted), and made some repairs to it so that she has a bike to ride.
I made a triple batch of laundry detergent this week.
I sent my husband to pick up a 12 ounce bag of salad that was free with a coupon at a local grocery store that is near his work. He had to drive by there that day for another reason, so I gave him the coupon.
I did not purchase any food last week.
The only thing I purchased last week was 8 photos of the children (I ordered prints through Sam's Club).
What did you do to live frugally last week?