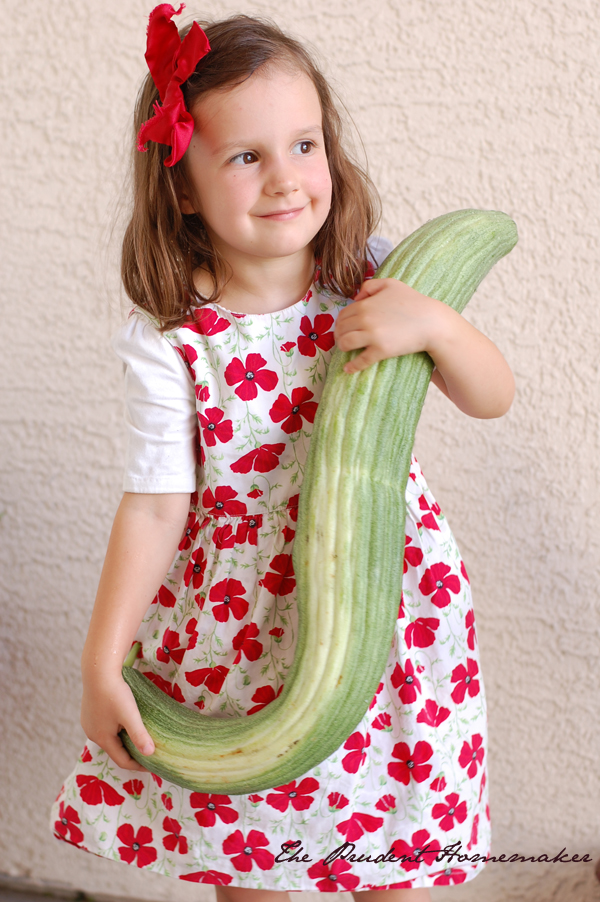 An Armenian cucumber from last year
I've been writing this series on my blog for a just over a year now. Here is last October's post. As you may have noticed, I shop first to fill gaps in my pantry and secondly for fresh items that the garden cannot provide.
In October our temperatures start to drop into the 90's and 80's. It's a busy month in the garden where I will be planting a lot for my fall garden. I have a lot of seeds to plant, both collected from the garden earlier this year as well as those leftover from spring planting.
We've already seen russet potatoes at .20 a pound at Winco (last month). That is as low as they went last year, so I'll be buying potatoes this month if they go that low again and if they look good. My large purchase of potatoes is usually in November, when it is cooler and they will last longer. This year we want to try doing something different. We like to eat potatoes all year, but of course they are on sale at the lowest price in the fall. We are going to try drying some in our dehydrator to see how they turn out. I've read some tutorials on the process. Our November purchase of 300-400 pounds usually lasts until sometime in February. If I can find them for .20 a pound or less, I'll buy more to dry during this month and next month to last us further into next year. If they're .25 a pound, I may not buy as many this month (which is where they are currently priced). How many I purchase will also depend on the quality of the potatoes that I find. I won't buy wet, green, or moldy potatoes (and sometimes that is what the stores have!)
I'll be watching for sales on onions over the next three months as well. Last year I did this same thing with onions, buying a 50-pound bag for $8. We ate many fresh and then dried the rest in the dehydrator to last us when prices were higher. This year I'd like to get 100 pounds if I can get them for that price, so that we can dry more, as we can easily go through 100 pounds in a year. So far the lowest price I am seeing is .48 a pound, but if I can find them for .20 to .25 a pound, that's when I'll stock up.
Apples are a seasonal stock-up item for us, too. I can usually find them on sale for .98 a pound for Galas. If I can find a much lower price (.50 to .78 a pound) I'll buy between 40 and 80 pounds and put them in the refrigerator, where they will last several months. Jonagolds are our favorites, but they are not a good storage apple, so if I find any on a good sale, we will eat them right away.
I'd like to buy some pumpkins and butternut squash this month as well. I'll be looking for the lowest prices (under $1 a pound, and hopefully $0.68 to $0.78 a pound on sale for the squash). For the pumpkins, I'd like something to decorate the house for a while that can be eaten sometime next month. I think the lowest priced option may be to purchase a pumpkin that isn't priced by the pound. If this proves too expensive, however, I'll pass on the pumpkins.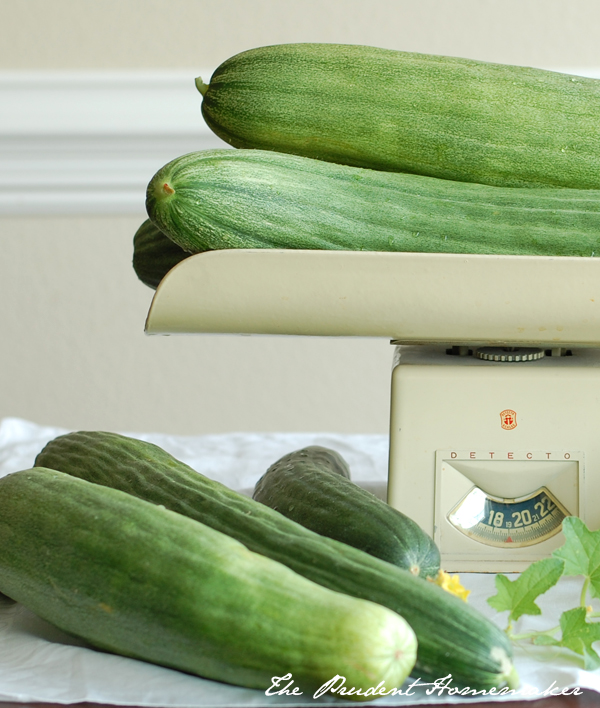 I'm hoping that as the temperatures start to fall, the Armenian cucumber vines will start to send forth female flowers in abundance. They are already starting to set some fruit as the temperatures have dropped below 100º (the ones in the shade; those in full sun are still only putting forth male flowers). I currently have 9 cucumbers growing, and I'm letting them get nice and big so that we will have more to eat (they can get as long as my arm and twice as wide without becoming bitter). I'm letting one grow big and yellow-orange so that I can collect seeds from it. Since Armenian cucmbers are technically melons, rather than turning bitter as they grow, they actually turn sweet when they turn colors, and they taste like a melon rather than a cucumber at that point.
The garden is full of herbs right now (the most prolific being basil and thyme). I will be collecting and drying them to use throughout the rest of the year. I will also be making pesto with the basil from the garden and freezing it.
As the weather cools, the beans should start to produce again.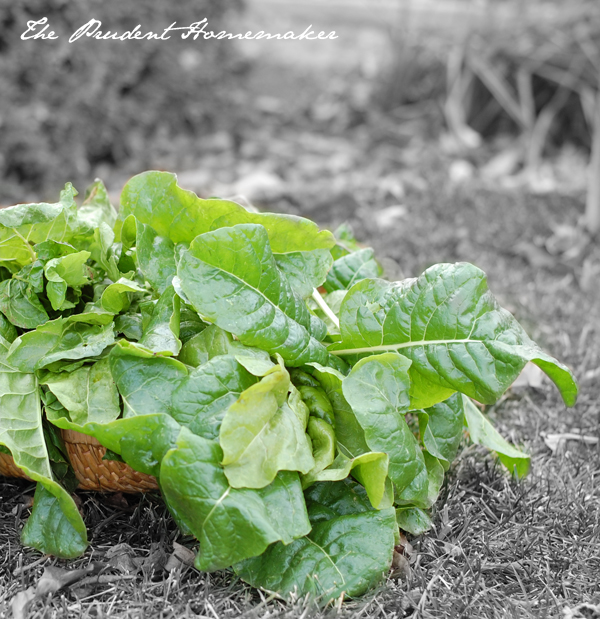 The self-seeded Swiss chard (it is Swiss chard, after all, and not beets) is growing rather abundantly. Since Swiss chard is a cut-and-come-again vegetable, I can harvest it and have it grow back in 10 days.
I also have a few heads of lettuce that somehow managed to self-seed in the garden, despite the heat (they are growing in almost complete shade). I'll be planting lots of lettuce seeds this month, but we may also have some ripe in the garden as well by the end of the month.
I'm cutting grape leaves from the garden. They have a wonderful lemony flavor and are great in soups or on chicken. We are still eating chicken from the freezer and are working to eat down the meat in the freezer to make room for stocking up when the sales come.
On Labor Day, my mom served corn on the cob with a delicious chili-lime seasoning that we sprinkled on top. I love limes, and I was impressed with the way the powdered lime in the seasoning tasted like fresh lime juice. I decided to see if I could buy powdered lime juice in bulk.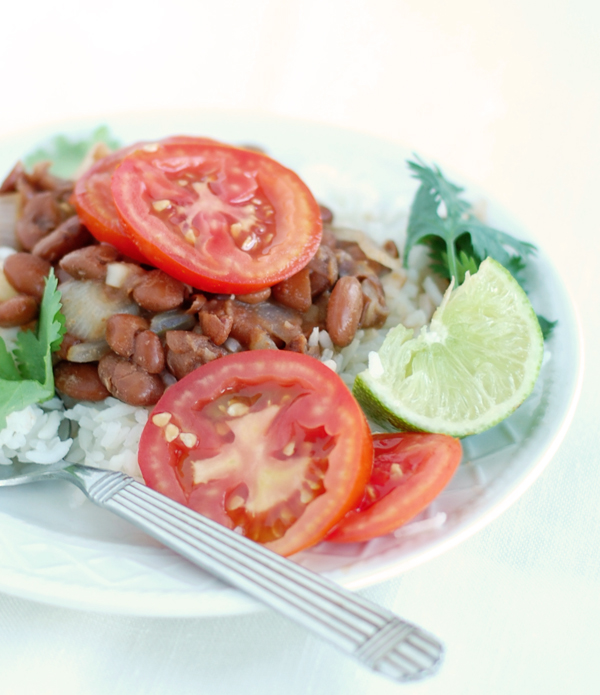 Here's how I use limes: Years ago, I first learned to eat rice and beans from a Brazilian woman who served it to me in Geneva, Switzerland. As a college student, I was making this recipe one day when my Mexican roommate's mother was visiting. She was watching me cook, and then she piped up and said, "That would be even better if you added lime juice." I bought limes the next time to try it and I loved it like that! Bottled lime juice does not taste the same, but the powdered lime juice does! Limes are not always on sale (and I lost my lime tree to frost last year), so having some lime juice powder on hand would be good. I looked and found that San Franciso Herb Company carries it, so I am ordering some. They have a $35 minimum order, so I will add some other things to my order as well.
For Halloween candy, I've already decided to purchase it from the lowest priced Winco bulk candy section. Last year this was the cheapest option, even after all coupon and sale combinations. Winco puts this candy on sale a week or two before Halloween just for this purpose, so I'll purchase it then. I won't need much; last year we only had 5 children come!
I didn't find any deals in the store at Target last month for children's vitamins. I'm going to look again for sales this month, as well as on individual vitamins.
I increased our grocery budget from July to September from $300 to $400 a month. This month I return to our $300 a month budget.
Winco:
(I made one trip already for the first three items and will go back later in the month for the other items, as well as to check prices on apples and onions. Winco doesn't send out ads.)
Sour cream (currently marked on sale at $1.05 a pound)
Parmesan cheese (important in making pesto for the freezer)
Flour tortillas ( I normally get these at Sam's Club but Winco is closer and I wanted some sooner)
Potatoes (unless I find a better deal elsewhere)
Spreadable margarine (I buy Gold N Soft lowfat in a 3 pound tub for under $3; we use this for toast and on potatoes)
Candy
Milk
Cumin
San Francisco Herb Company:
Lime Juice Powder
Ginger
Cinnamon
Cream of Tartar
Costco:
Tomato Sauce
Balsamic vinegar
Target:
Bleach
Washing Soda
Borax
Vitamins
Dental floss (Sam's Club quit carrying this in bulk; if anyone knows a better price, please share!)
Antibiotic ointment (there is currently a 25% off Target Cartwheel offer on this)
Not sure where yet:
Apples
Onions
Pumpkins
Potatoes