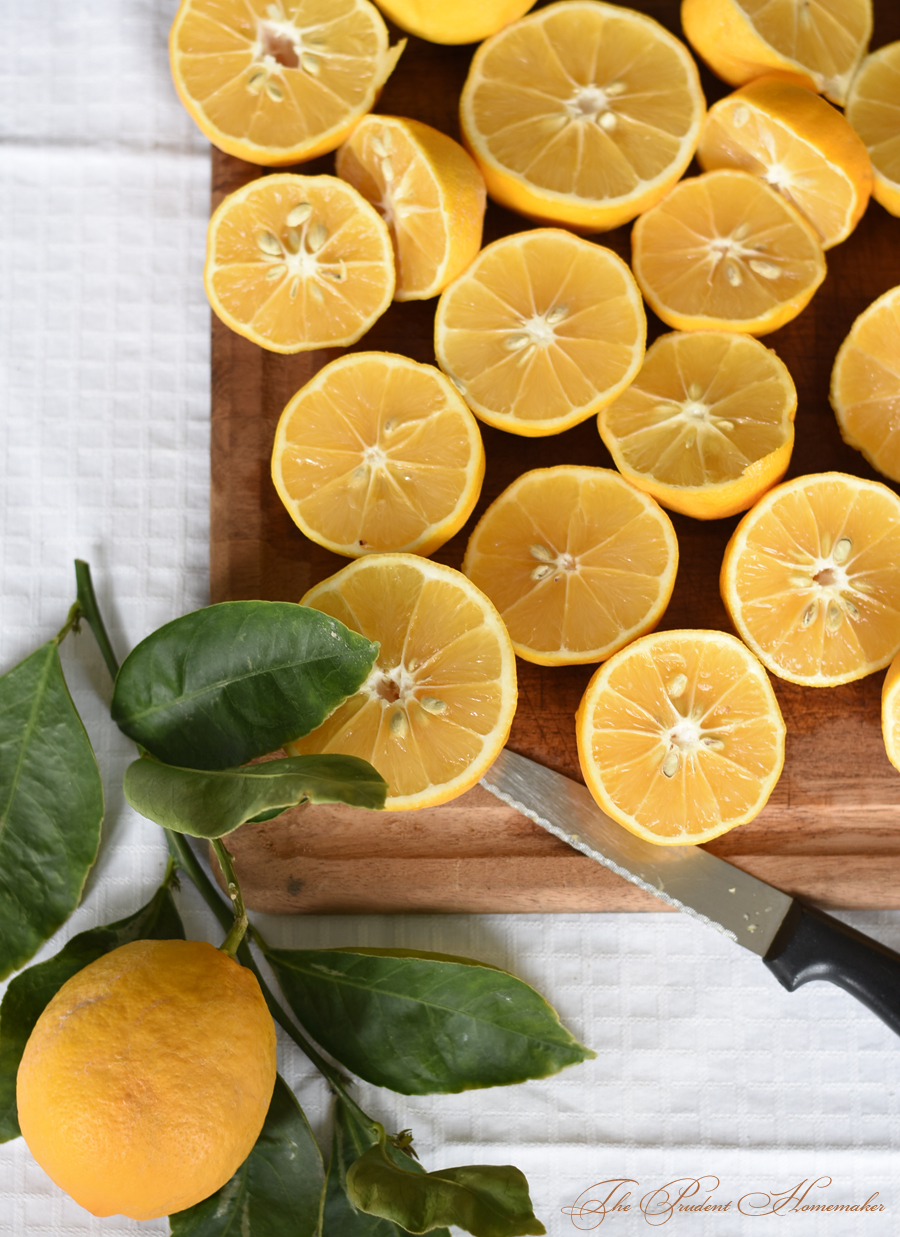 This post contains affiliate links.
As usual, this month I'm concentrating on filling holes in my pantry. We've continued to eat down the freezers, which has been fantastic, as I've found things that really need to be used up. This has given me the chance to clean out a couple of freezers before I start juicing lemons and adding lemon juice from our lemons to use throughout the year. My Meyer lemons can stay fresh on the tree from late November through April, but after that, it's too warm here, so they really have to be picked. Anything that we haven't already harvested will be picked and juiced this month. We'll freeze the juice and some zest as well. I plan on drying some zest to make my own lemon pepper seasoning.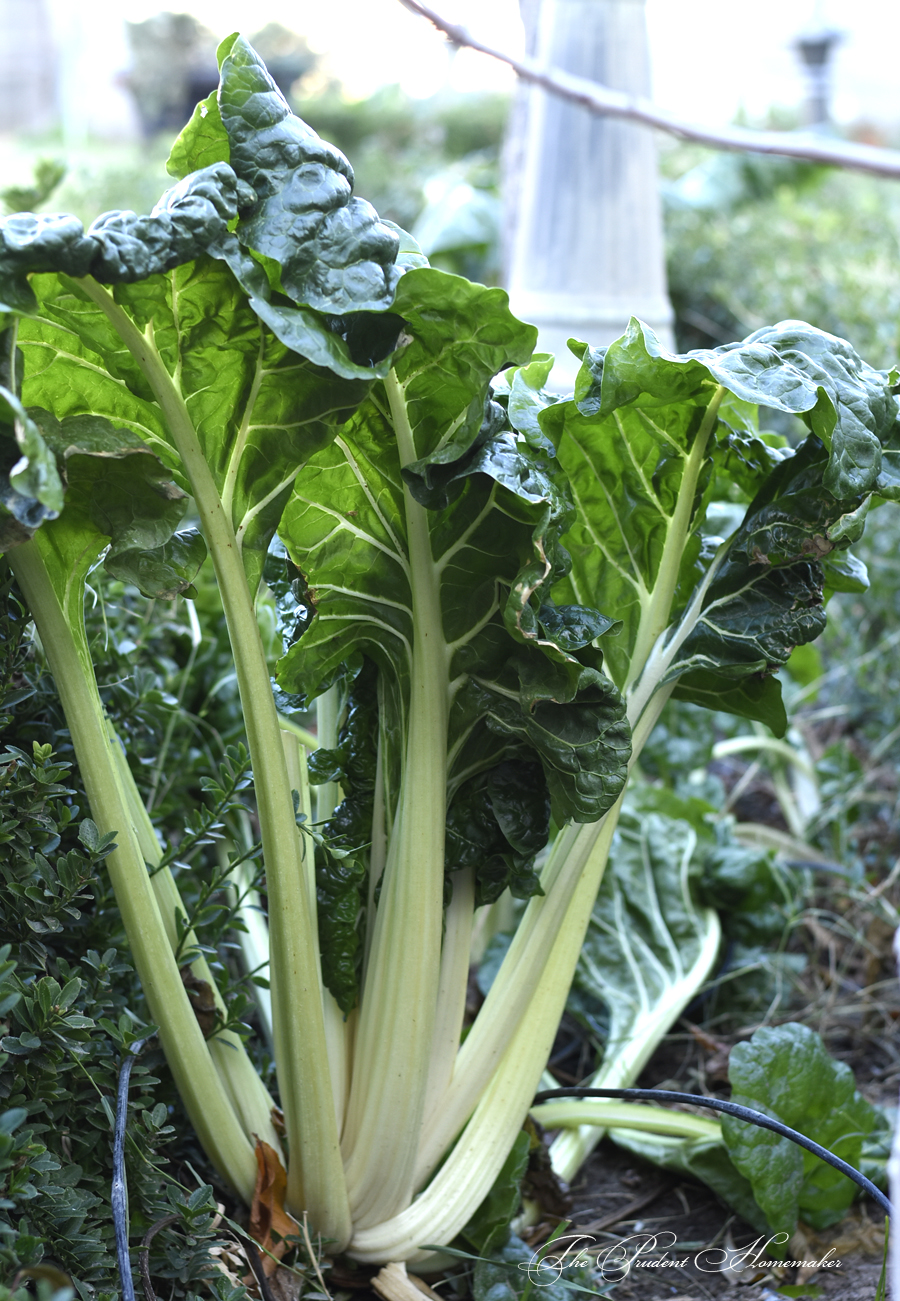 The Swiss chard in the garden goes to seed this month, so we've been eating loads of Swiss chard every week for the past month and will continue to do so this month. When it bolts this month, it grows 6 feet tall (2 meters) in a week! I plan on harvesting it before it bolts and then pulling the plants, except for one or two which I'll let bolt for collecting seeds to plant later.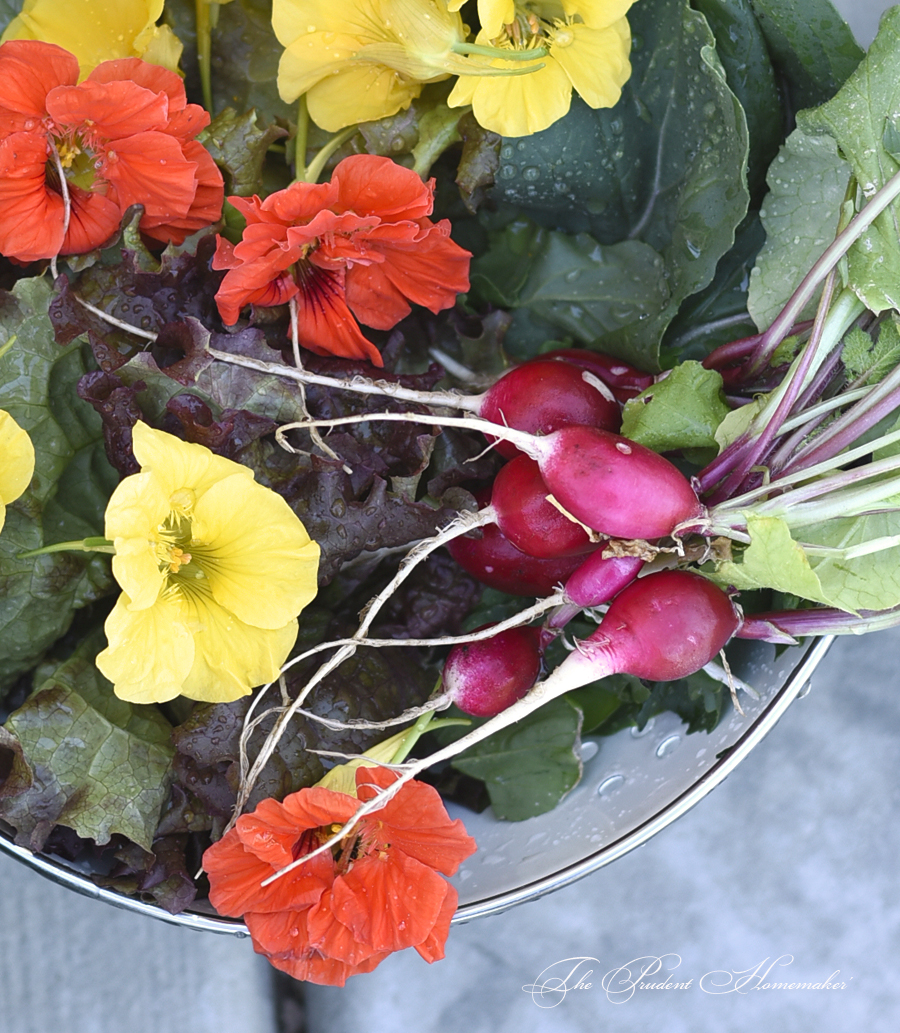 April is the best month for lettuce in my garden, so we'll have lots of salads. In April we usually have salad either with or for (as the main course) lunch or dinner every day, served with homemade salad dressing. A simple and very inexpensive meal we often have in April is black beans (seasoned with onion powder, garlic powder, and lime juice), rice cooked with tomato bullion powder, and a salad. Bean burritos (made with pinto beans) are another favorite of ours in April. As the weather warms, homemade lemonade and salads with homemade bread are a meal we have often as well. Often, we'll have a homemade soup as well.
We'll harvest lots of snow peas and green onions this month. Most of them will be enjoyed in my Museum Pasta Salad.
Spinach, radishes, and leeks are ripe in the garden this month as well.
I'll cut and dry parsley to add to my pantry. My parsley is starting to bolt in the garden, so it needs to be harvested before it all goes to seed. This is an item I no longer purchase dried, as I grow enough in my garden to use fresh and dried throughout the year.
I'm not sure when I'll be out and about shopping in May after our new baby is born, so for April, I am upping our budget from $200 to $400. May's shopping plans will depend on our income.
Here's how I plan to spend my $400 grocery budget for my family of 10 this month:
Sam's Club:
Raisins (60 oz.) $9.98
Chocolate chips (72 oz.) $9.98
Brown sugar (7lbs) $4.38
Granulated sugar (50 lbs) $23.88
Rice (25 lbs) $9.48
Tomato Sauce (5 #10 cans) $2.98 a can
Diced tomatoes (5 #10 cans) $2.98 a can
Feta cheese (24 oz.) $7.38
Mozzarella cheese (5 lbs) $10.48
Ketchup (114 oz.) $3.83
POM toilet paper (4 boxes) $19.98 a box
Milk (4 gallons) $2.35 a gallon for whole milk
Winco:
Potatoes
Onions
Carrots
Limes
Great Northern Beans (25 lbs at $0.89 a pound)
Kidney Beans
Salsa
Milk
Sour Cream (unless I find a lower sale elsewhere)
Spreadable margarine (3 lb container for $2.28)
Walmart:
Equate hand dishwashing soap
Dental floss
Smith's:
I'll look for sales on strawberries for $1.00 a pound or less; I'll buy several to make jam and to freeze.
I'll look for sales on chicken under $0.99 a pound to put in the freezer. In years past, I have found whole chickens for $0.79 a pound in April, which is a rock bottom price where I live.
The case-lot sale takes place over two weeks this month. I'll look for case-lot sales on canned Mandarin oranges and canned green chiles. Chiles are not on the case-lot sale this time.
Update now that I have the ad:
Mandarin oranges case of 24 11-ounce cans $14.16 ($0.59 a can)
Tuna fish case of 48 5-ounce cans $28
Canned corn case of 12 $6 (2 cases)
Going through the grocery ads last month, I can see so many items that can quickly up one's budget–even on sale. For example, strawberries were on sale, but they were $2.50 a pound. I know that in April strawberries are at their lowest price for the year in April as they are in season here at that time, so that's when I stock up for the year. Many stores have a limit, so I'll look for a store that doesn't (usually Smith's–our Kroger affiliate–has them for under $1 a pound without a limit, though some years the lowest sales price has been $1.25 a pound). My goal is to always look for the lowest price and stock up then. I know that some items are only at that price once or twice a year, which is when I aim to stock up, and why the prices you see me paying are as low as they are. Regular prices and regular sales prices are not that low all the time on many items that I buy. By waiting to purchase items until they are at their lowest prices for the year and stocking up, I save a lot of money.
I'm cooking several pots of beans in my solar oven and freezing any we won't use right away. This gives me a head start to making several meals on other days, including after the baby is born.
What sales will you be looking for this month? Do you plan on harvesting anything from your garden?