I've had a lot of questions about the Subway Art Style bookmarks that I made for my children for Christmas.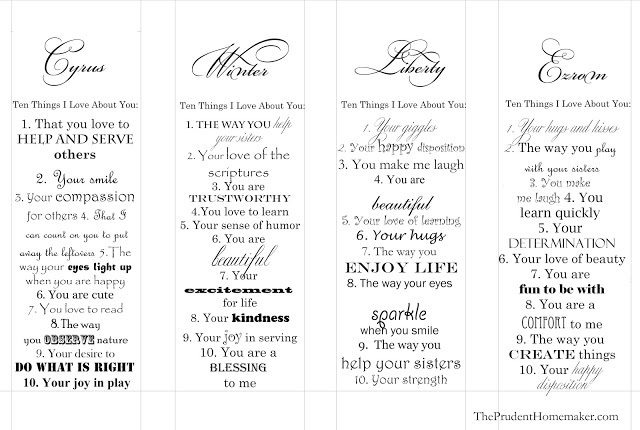 I made mine in Photoshop, but you can easily make them in Word. If you want more fonts than you currently have, do a search for free fonts, and download some new fonts that you like to your computer. Some places I've found fonts are Urban Fonts, and DaFont.
I typed each child's name at the top, and then wrote ten things I love about that child underneath. Be sure to keep the file, in case a child loses his or her bookmark and wants a replacement.
I fit four on a page, and I printed them on a piece of cardstock.
After cutting them out (I used a paper cutter to make it easier, but you can use scissors) I covered them with clear shelf-liner on both sides. I cut around the edges, leaving about 1/8 inch around the edges. You can get a roll of clear-shelf liner for around $5. I first learned this trick in France, so if you're reading in another country, you should be able to find this as well.
Instead of a bookmark, you could print this and stick it in a photo frame, or print it as a poster.