It's been a hot week, requiring us to still run the a/c both day and night (I tried turning it off and opening the windows at night, but it was 81º in the house at 10:30 p.m. and it was just a bit too hot, even under the fan). However, it made for a pleasant, warm evening after dark for us on Friday night, when we enjoyed an al fresco dinner on the patio. I put out a tablecloth on our outside table and we had a wonderful meal.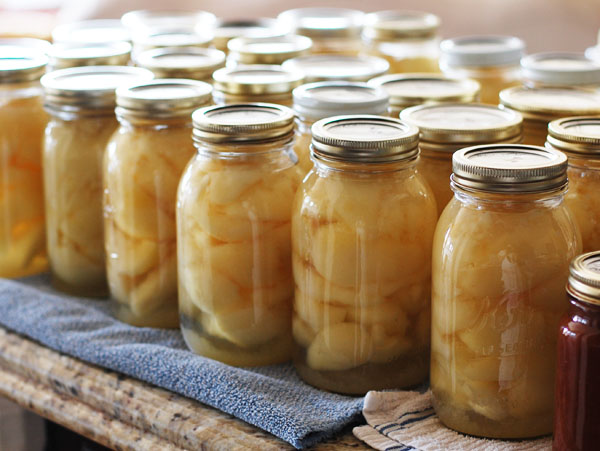 I canned 27 quarts of pears, 3 pints of pear butter, and 6 half-pints of pear butter from the 72 pounds of pears that I picked up last week for .49 a pound (the children did eat some of the pears).
I picked Armenian cucumbers from the garden and I canned 20 pints of dill pickles from them. You can see my caning totals for this year on my website.
I picked zinnias from the garden and put them on the kitchen table.
I used coupons to get free spray gel and free packaging tape.
My husband bought a used scooter for $180. It will take a little more money (maybe $200) and a little work to make it work better and look better. This will help us to put off buying a car for longer, as our family does not currently fit into our car. We usually only go to church as a family (which is not very far), so my husband can take the scooter and the rest of us can fit in the car. This will make it possible for us to delay buying a larger vehicle for a year or more. As an added bonus, the scooter does not require registration or insurance, so it does not have the extra expenses that would come with a motorcycle or another car. In addition, it gets over 50 miles per gallon, which is much better than our current vehicle. This will save us money in gas. Currently we fill our only car with gasoline every 2 weeks. I am interested in how this will change, as my husband should be able to take the scooter to work most days.
I watched two free shows on Hulu.
I listened to free music on Pandora. I found out that you can type specfic songs in (not just types of music) and get those songs, including movie soundtracks.
I sprayed my grapes for grey mold with an organic fixed copper spray that I got for free earlier this year using a $25 off $25 coupon.
In addition to the cucumbers I mentioned above, I harvested Swiss chard, green onions, basil, and 2 zucchini from the garden! (Finally!) I'm hoping that the zucchini aren't too hard to eat. I've had very few this year (fewer than my usual few) and the ones that have grown were too hard (like rocks), even after cooking. If these are good then we'll have some fried zucchini this next week.
I mended a dress for my daughter.
I picked up books from the library that I had requested (some for the chidren for school and two for me) and I read one
.
What have you done this past week to save money and enjoy life?