I made a dress for my daughter with fabric from my grandmother's stash, so my only cost was buttons and thread. Total cost: $0.45!
I picked tomatoes and peppers at a friend's house.
I said yes to free hot dog and hamburger buns that someone offered me. Her family had just had a reunion, and no one wanted them. We turned the hot dog buns into garlic bread, and the hamburger buns were used for sandwiches.
We harvested grapes, tomatoes, basil, Asian pears, Swiss chard, a zucchini, a handful of green beans, and rosemary from the garden.
I bought no food this week.
We did an inexpensive science experiment using items we had on hand. It didn't turn out for us, and we did it twice, but it was fun experimenting! Total cost was about .03, if that.
The children painted some huge pictures that I printed for them from The Graphics Fairy. I didn't reduce the image (this Japanese mother with her baby) . I reversed the image and printed it again for my daughter, and after she was done painting them with watercolors, she hung them in her room. It took three pieces of paper to print it, so she just taped them together.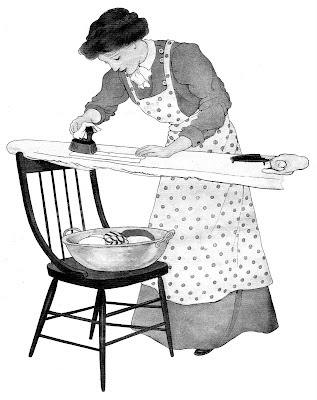 I took advantage of the sale at Joann's to get some fabric, buttons, and embroidery thread. I used some of that fabric to recover my ironing board. It cost me about $3 for a new cover that I love. I used the string that tightens the cover from the old ironing board cover in the new one. I've wanted a custom cover forever, and it turned out to be such an easy project. I just used my old cover as a pattern.
I collected water from the shower (while waiting for it to warm up) and used it to water my plants. I also used the water from steaming Swiss chard to water my plants.
I watched three shows for free on Hulu.
I ordered a free 8 x 10 from Walgreen's.
I hemmed a pair of jeans as a birthday gift for my father.
I cut the buttons off of a worn blouse and kept them for a future project.
What have you done to save money this week?