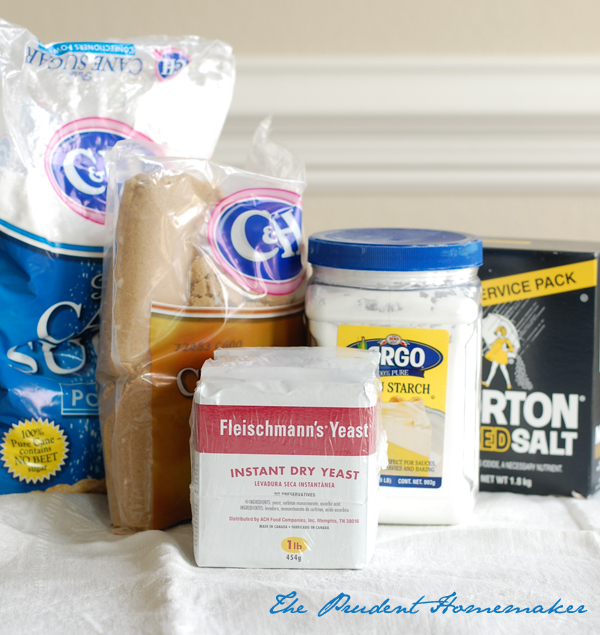 What are the holes in your pantry? If your circumstances were to change so that starting in October you would need to live on only what you had stored for the next 12-18 months, what items would you run out of?
This month I would encourage you to strongly consider this question and figure out what is missing in your storage.
For my own family, having lived from our pantry for over a year before, I have a pretty good idea of what I need. I also see gaps where we have eaten items and not replaced them in the amounts we would need if we needed to live from our pantry again.
My priorities this month are those "holes" where I have items, but not enough. I've been working on filling those holes most of this year, but of course, we continue to eat what we have stored.
My priorities this month are powdered mik, rice, vitamins, yeast, baking soda, baking powder, sugar and salt.
I prefer instant powdered milk in my storage; you can read my thoughts on powdered milk here.
My husband had to make a trip to Chandler, Arizona today (not a normal thing at all for us), and just yesterday I heard about an AMAZING price on powdered milk in Tempe, Arizona, which is very close to Chandler. It is $49 for a 50 pound bag (makes 62 1/2 gallons at a cost of $0.78 a gallon). I had him purchase 4 bags for us. The store is called Milk N' More; here is the address and store hours. They make the milk powder there!
For vitamins, I am looking to purchase more children's multi-vitamins, I buy the store brand of children's chewables at Target ($7.79 for 150, which is less than a month's worth for my family). I often find these on sale for $1 off, and then sometimes find additional $0.75 or $1 off Target coupons, and sometimes an additonal 10-15% off on top of that as a Target Cartwheel offer (I add these to my Cartwheel account and then print the paper to be scanned, since I don't have a cell phone, and it works without any problems). Hopefully I'll find some of these items to lower the price this month. (Update: These are on sale for even less online this month–see link above–so I will see if I can get the same price at the store).
I'll purchase everything else at Sam's Club.
Later this week we'll finally see temperatures drop below 100ºF. This is a great blessing for the garden. As the weeks go by and temperatures continue to drop this month, my cucumbers should start producing female flowers (unfortunately, they only produced male flowers last month, as it was around 107º).
I should also (hopefully!) start harvesting more red noodle beans. As the temperatures drop, they also flower more.
By the last week of the month, temperatures will hopefully drop below 90º, and I'll be able to plant lettuce seeds in the garden. Be watching for a post on fall gardening very soon! I've been collecting lettuce seeds from the garden, and so I won't have to purchase any lettuce seeds for fall planting, and I have lots of other seeds left from last fall and this spring for fall planting.
I am currently picking pears, apples, beet greens, chard, green onions, basil, chives, thyme, and other herbs as needed from the garden.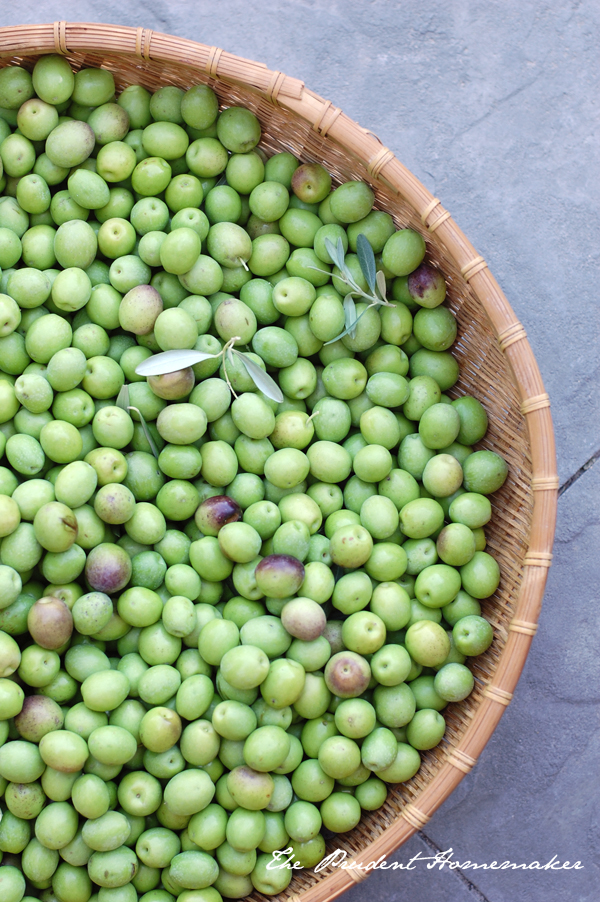 September is the month where I pick olives. I should be able to go olive picking around the end of the month. A lot of people asked me about instructions for olives last time. I was new to doing them and they take a very long time (weeks, depending on how you do them!) and not all of mine were okay at the end of that time. I learned a lot about what works and also learned that there is going to be some loss. There are a lot of ways to process olives. Our favorite way was the freshest way, which doesn't last long. I'll make sure to put that recipe up, as it is very simple. I recommend reading this for complete olive instructions. It's long–26 pages–and I suggest printing it and stapling it to refer to while you're processing olives. For most ways of processing olives, you're going to need lye, and you'll want to make sure it is pure lye
with no additives. I ended up buying my lye
from Amazon.
I've had some questions about starting to stock a pantry. If you're just starting out, my first two choices in items would be bulk rice and beans. Then, should something happen to you financially, you at least have something to eat. The second items I would add would be bulk flour, yeast, and salt, so that you can make bread. Third, I would buy oats in bulk (which can be used for breakfast as well as for dinner).
After that, look at what you eat for a week. How often do you eat spaghetti? Take the number of times you have that per week times 52 to know what you need for a year. If you only have it every other week, take .5 times 52, and if you eat a pound each time, you'll need 26 packages for the year. Now you'll know, when a great pasta sale comes by, how much you'll need. Pasta sales, of course, include other shapes, so think of how many times you make pasta salad, chicken noodle soup, or other pasta dishes, and stock up on each of those at the sale as well.
Do the same with other items that you purchase, and you'll know how much your family needs of an item, so that when sales come, you can stock up.
For my pantry list, click here.
I wish you all the best in filling the holes in your pantry this month!