The week always seems to change so much than I what I plan. I ended up spending a whole day going through the girls' cold-weather clothing, which I hadn't planned. They won't need it for a couple more weeks, but now we're ready.
I ended up with no time to sew or prune, but I did manage to get out and plant a few seeds in the garden.
The baby decided that it would be lovely to be awake between 4:20 and 5:20 every day. This changed my plans a lot!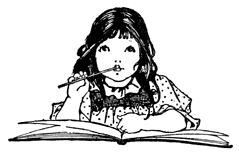 Last Week's Goals
1. Work on Green dress for Winter (maybe? Hopefully!)
2. Finish skirt for Winter
3. Continue to embroider handkerchief at night
4. Plant more seeds in the garden
5. Cut out new dress for Winter I also cut out a pair of shoes that I will sew for her.
6. Take pictures for tutorial
7. Spend some time organizing the pantry I did some, but there is still more to do.
8. Prune trees for Thursday's trash (have trash cans full). It poured here! That is very unusual. I stayed indoors and worked on other things.
9. Organize part of the library I started, but the children needed me and I ended up helping them to organize their rooms instead.
10. Sew bibs
11. Praise each child each day I liked having this goal. I wasn't perfect at it, but I will continue to work at it.


I still need to work on many things, so my list will look pretty similar this week.
This Week's Goals
1. Work on Green dress for Winter
2. Finish skirt for Winter
3. Continue to embroider handkerchief at night
4. Plant more seeds in the garden
5. Put together items for speaking this week (I'm speaking on Tuesday and Saturday)
6. Take pictures for tutorial
7. Spend some time organizing the pantry
8. Organize part of the library
9. Sew bibs
11. Praise each child each day