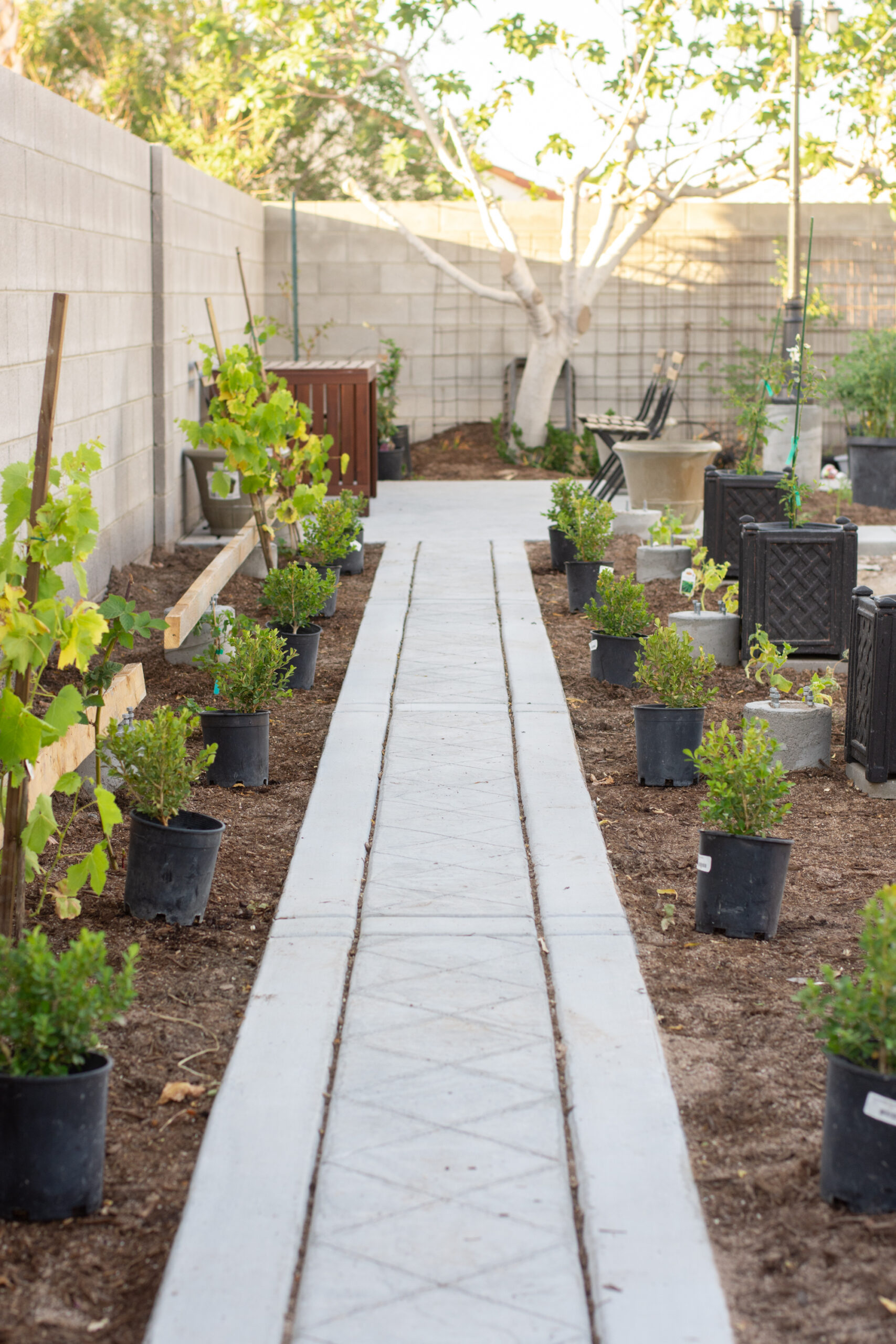 We brought in six cubic yards of topsoil into the garden last week. This was bought in bulk and we picked it up ourselves, saving $130 in delivery fees. We still need to purchase more to finish filling the garden beds. The area above is now filled and I started planting there. We plan to build a pergola in this area; the grapes can grow over the top, instead of along the wall where they previously grew in this bed. On the right, I will grow cucumbers in summer and snow peas in winter.
We harvested apricots, mulberries, a few tiny tomatoes (the heat has already made the large tomatoes ripen when they are the size of cherry tomatoes, and the cherry tomatoes are tiny!) and lettuce from the garden.
My husband is planning to weld some obelisks for me for my garden, so I no longer needed the very large (6-foot tall) tomato cages that we made 15 years ago from concrete mesh. Someone in a local gardening group was looking for the mesh to make her own cages, so I offered her my cages. She was very excited about them. She didn't have a way to come get them but she wasn't far from Lowe's, so we took them to her when we went to Lowe's this past week. She offered me several plants that she had started from seed as she grew more than she needed. I didn't have room for many (and I still don't know where I am going to put the tomatoes from her!) but I took three tomato plants of varieties that were new to me, two tomatillo plants, and a basil plant.
When we first landscaped our backyard, we hired a curbing company to install concrete curbing around the edges of the beds where the beds meet the grass. As we have redone the garden, we wanted to have concrete curbing around the edges of the bed where they touch the small areas of grass. My husband decided to make forms and pour the concrete himself rather than hiring a company with a curbing machine. The man who poured our concrete does not do this kind of work, but he left us some of the long boards that he used to set forms for our concrete, so we reused those. My dad was shocked that he left them, saying that those boards are over $25 each. My husband also cut some backer board that he bought to do the curbing on the curved areas. We saved well over $800 by having my husband do all of the concrete curbing.
A lot of things needed to be replaced this week and my teenaged son has outgrown most of his clothes, so I had to make a lot of purchases this past week. I couldn't find exactly what I wanted for one thing, so I settled on something else. I went to another close store and found what I wanted, which was a washable shower curtain/liner made of polyester fabric. I needed to replace two of these in the house. These last longer than plastic curtain liners and eliminate the need to have a curtain and a liner in the bathroom. Bed, Bath, and Beyond carried them after I had looked at two other stores and was wondering if I would have to purchase expensive fabric shower curtains in addition to the plastic liners I had felt obligated to buy earlier. I returned the liners that I had bought at Target. I also used a $10 off coupon on my purchase at Bed, Bath, and Beyond.
We needed two new ceiling fans, which we bought at Lowe's. After 15 years, some of our fans are wearing out. We use ceiling fans more than half of the year here. We chose less expensive options, even though we liked some that were twice as much. Our son wanted his up right away, so we had him read the instructions and helped him along the way with wiring in the fan, making sure he knew the first step was to turn off the electricity to that room at the breaker. Teaching skills is such an important part of helping our children save money in their future lives, and we are grateful for the skills our parents and grandparents taught us that we can pass on to our children.
Our neighborhood decided to have a neighborhood garage sale. I had donated a lot of things to the thrift store and didn't think we had enough to have a sale. We went ahead with the sale anyway, with my parents giving us a bunch of things they no longer wanted to add to the sale. I had two children who wanted to help with the sale if they could keep part of the money. I said sure. It was not a very profitable sale (we made just under $40–most of it from the things my parents had given us!) but it freed up space in the house and the children were happy to have earned a bit. I took everything left straight to the thrift store and donated it.
I combined errands to save gas and time. Gas is $3.50 a gallon here.
What did you do to save money last week?
Would you like to support my site?  As an Amazon affiliate, I earn from qualifying purchases made through my links. This means that I earn a small percentage from ANY items you place in your cart and purchase within 24 hours after going to Amazon from one of my links (i.e., it doesn't have to be an item I have linked here).  If you're going to be making a purchase from Amazon this week, I thank you for using my links to support this site!