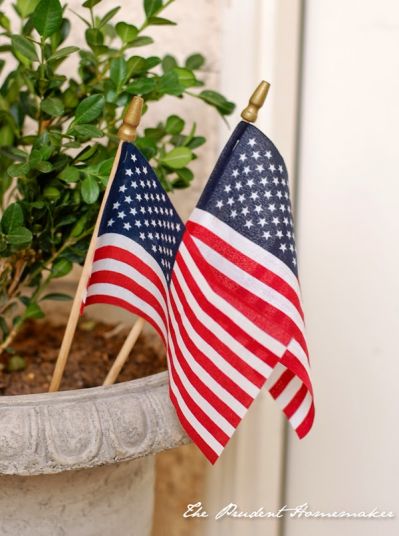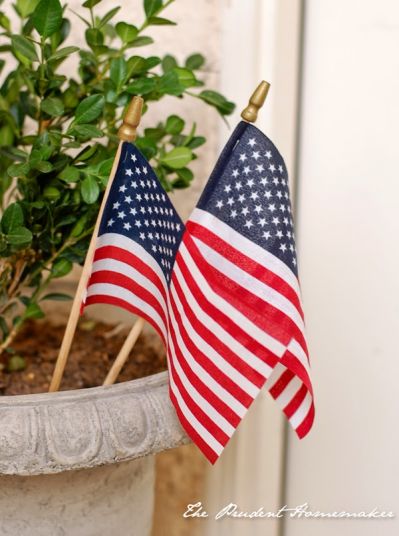 Last week's plans were completely changed when a friend, whom I haven't seen in almost 8 years, emailed on Monday to ask if she and her family could come to visit on Friday, join us in our Fourth of July plans, and sleep at our place.
We said yes, and changed our plans slightly to make sure we had lunch ready for them when they came. I put my goal list on hold until the next week and made a new goal list that was mostly getting the house ready for 7 overnight guests–which means we did a lot of cleaning this last week.
We used all of the cleaning cloths and washcloths, along with a lot of hot water, to wash down baseboards, cabinets, walls, doors, and door frames. The boys brought in the extension ladder and my 9-year-old used a duster on a pole to dust everything up high (moldings, the entrance light, the tall picture frame over the piano, bookshelves, and the pot shelves in the kitchen). I dislike doing that job myself, but he wanted to do it, so I gratefully said yes! My husband blew the duster clean with the air compressor several times and we used it again.
My husband cleaned the ceiling fans and washed the windows, including the one over our front door (since we had the ladder out). He also changed another air filter that is only accessible by the extension ladder.
I used our carpet cleaner and lots of hot water to clean the carpet in the children's rooms. Those are the only rooms that have carpet. (When we moved into the house 8 years ago, we redid the floors. We would have liked to put wood in the children's rooms, but went with carpet as it was much less money, choosing to replace the old carpet that was worn from the previous owners). I also used the carpet cleaner to clean the rug I keep at my kitchen sink.
Cyrus cleaned the fridge with lots of hot water and some dish soap.
I washed the shower curtains in a hot water load with cleaning rags and bleach. I have cloth "shower curtain liners" that I use for shower curtains. When they need it, I wash them with bleach to kill any mold that forms on them.
My husband tightened the screws on a cabinet front and a drawer front. He fixed a clog in the bathroom sink and one in a bathtub.
I organized the books in the library and pulled out several schoolbooks that we are not using to sell. I have never sold books online before; I would love to hear from those of you who have how to best package them and figure shipping costs for them. I plan on sending them media mail but after looking at Homeschool Classifieds (which many of you recommended on Facebook) it looks like I need to list them with the shipping price included as part of the selling price. I can definitely use some tips on this!
I put a picture of Christ by Liz Lemon Swindle that I received from a conference last year (where we both spoke) in a frame that I bought for a $1 and hung it up. I also put a card with an image from Jesse Willcox Smith into a 50 cent frame on my nightstand.
I bought several pounds (I believe it was 32 pounds) of pasta this week at .49 a pound. I also purchased 4 1/2 dozen eggs at $1.30 a dozen ($1.95 for 18 eggs). This seems to be the new low price. I bought 4 packages of hot dogs for Friday's celebration (.68 for a 12 ounce package, or .90 a pound) and only 2 packages of hot dog buns (since most of my children prefer them without buns) for .88 a package (I haven't purchased bread for years but decided this time to buy buns for our guests). I also bought 6 pounds of strawberries for $1.25 a pound (also the new lowest price here).
I harvested 3 large Armenian cucumbers. These cucumbers were all ones that I hand-pollinated the week before.
I harvested a good number of red noodle beans for dinner.
I picked a few tomatoes. The tomatoes are slowing production now that it is so hot. It was 108º several days last week.
We harvested peaches and grapes from the garden all week. We brought a big bowl of both to our church's annual Fourth of July breakfast that we attended. We served a bowl of them at lunch on Friday (where we had my parents as well as our 7 other guests) and took some to Friday night's family potluck. We went swimming twice on Friday; once at breakfast and once at dinner.
We saw some local fireworks for free and I brought out the sparklers (that I bought for a fantastic deal last year) for the children to enjoy.
I gave grapes to my parents and a friend on Thursday.
We had some rain (not much, but here, anything is exciting!) on Friday night. I turned off the drip irrigation and sprinklers for a couple of cycles. The intense heat had the plants wilting the next day so I turned them back on after that.
The humidity that came in made it possible for me to collect several gallons of water (over a gallon a day) from our air conditioning system, which I used to water our potted fruit trees.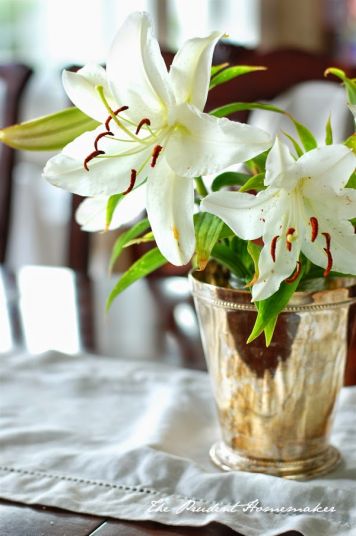 I cut lilies and roses from the garden for our breakfast table on Saturday morning.
I made French bread on Thursday so that we would have bread for Saturday's breakfast.
I mended the hem of a dress, mended a hole in another dress, sewed a button back on another dress, and found a matching button to replace a lost button on a pajama top.
We were able to set aside some money in savings last week. Thought there are things we would like to have, we know it's important to rebuild our emergency fund for months when we don't have sales.
What did you do to save money last week?