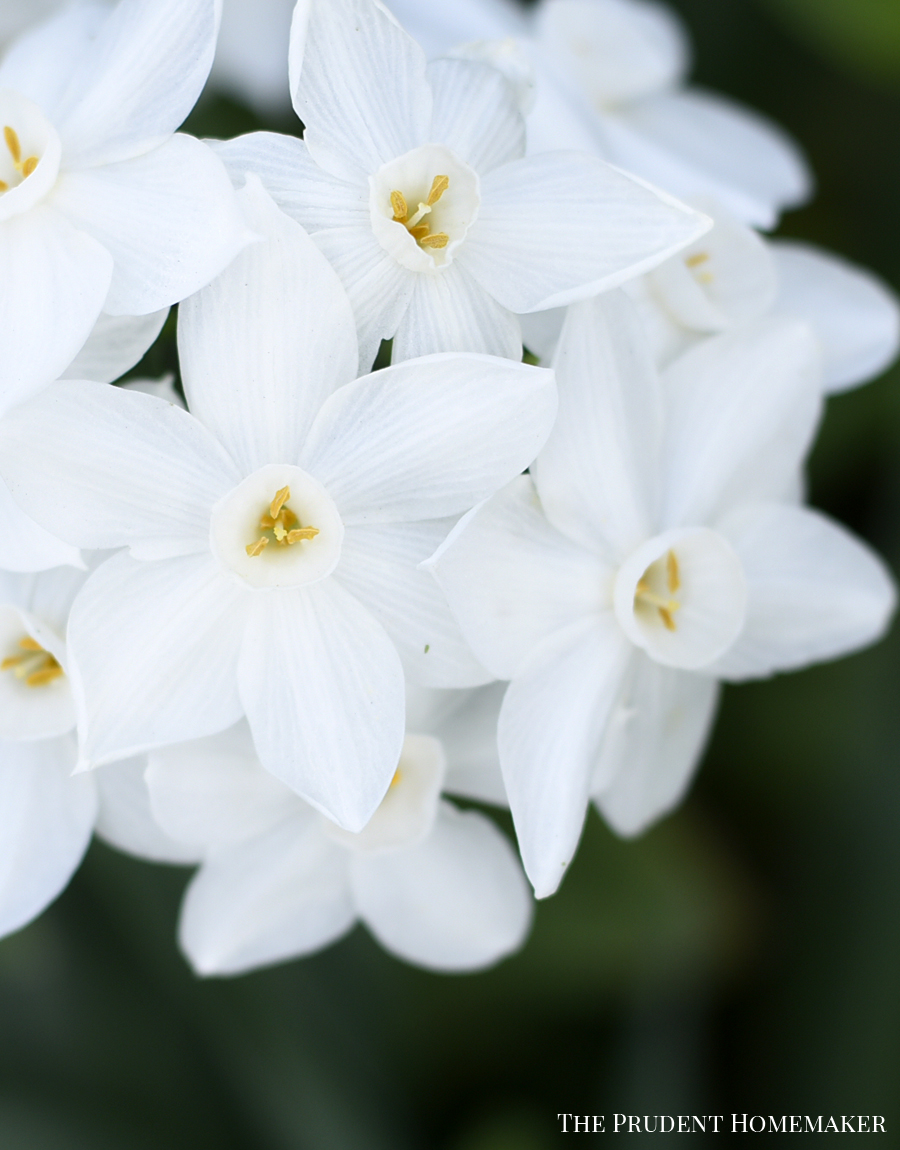 The paperwhites (above) have started to bloom a month early in the white garden.
We ate grape leaves, Swiss chard, beet greens, pears, rosemary, basil, and chives from the garden.
I used my solar oven to cook a few meals, including chicken with rice and grapes leaves, which I made twice last week.
I said yes when I was offered some frozen trout from someone who went trout fishing this summer.
I saved seeds from a homegrown butternut squash to plant next year. I primarily grow open-pollinated seeds so that I can collect seeds from my plants to grow the following year. I also saved the stem so that I can use it later to top a homemade velvet pumpkin.
I had an at-home date night with my husband. We played three rounds of Battleship. I haven't played that game in years and it was nice to play with the one that I picked up the week before last at the garage sale for $1.50.
We also had a date night out. We split a meal and had water to drink; our meal was $8.50. As our budget can now allow for a date night out (and we have children old enough to babysit), we have added one date night out a week to our schedule. This is a huge change for us and I am enjoying the chance to have a date out with my husband. We started having a date night out once a month last year, using only gift cards that we had received. Once a week is a lovely change, and we're making choices on where we go to keep it frugal.
We watched a couple of episodes of Poldark online for free (U.S. readers can watch here on PBS.org).
The weather has been around 90ºF (32ºC). I've been able to open the windows for several hours each morning, only needing to run the air conditioner for a few hours each day.
I collected warm-up water from the shower to water potted plants.
I spent many hours cleaning and organizing the pantry. I'm not done yet, but I have a good idea now of what I will and won't need to purchase in the upcoming months.
I did some shopping: I went to Dollar Tree and bought 4 bottles of The Works toilet bowl cleaner (cleaning items come from my grocery budget). I also bought a package of 4 toothbrushes (with plastic covers) and a package of combs, which will go in our Operation Christmas Child boxes this year, and a package of bobby pins, which I will put in Winter's stocking.
I went to Winco and bought yellow onions for $0.39 a pound (14 and a half pounds), russet potatoes at 10 pounds for $2.68 (30 pounds), Gala apples for $0.88 a pound (12 and half pounds), Roma tomatoes for $0.98 a pound (5 pounds), broccoli crowns for $0.98 a pound (6 and a half pounds), milk for $2.47 a gallon (3 gallons), shampoo for $0.98 a bottle (3 bottles), and orange mini pumpkins (they didn't have white) for $0.78 each (12). Their bulk candy is not yet on sale, so I'll return the last week of the month for some candy, milk, and more potatoes.
I am hosting a baby shower in December. I made plans this week for decorations and food. I have almost all of the food items on hand already in the pantry and in the freezer. I will plant extra lettuce in the garden this week for the party, with the backup plan to buy lettuce if necessary. I'll also watch for a sale on melting chocolates. Any food I do need to buy (including the chocolate) will come from the regular grocery budget.
I made plans for Christmas gifts that I will be sewing for the children using material that I have on hand. These will be featured in my Gift a Day series in November. The children have given me some rather specific requests, and I'm also adding in a few surprises that I know they will like.
What did you do last week to save money?