I spent the first part of the week organizing things to run as smoothly as possible for the end of the week, as I had surgery on Thursday to remove cancer from my head. It was growing in my hair next to my part, a place where I don't usually put sunscreen. I'll have stitches for the next three weeks and I imagine I'll have a swollen face for at least this week. One way I'll save this week is by not wearing any makeup, because it's a bit impossible right now!
To save money this past week, I did the following:
I baked a carrot cake in a 9 x 13 pan. I didn't have cream cheese on hand to make icing, so I lightly dusted it with powdered sugar instead.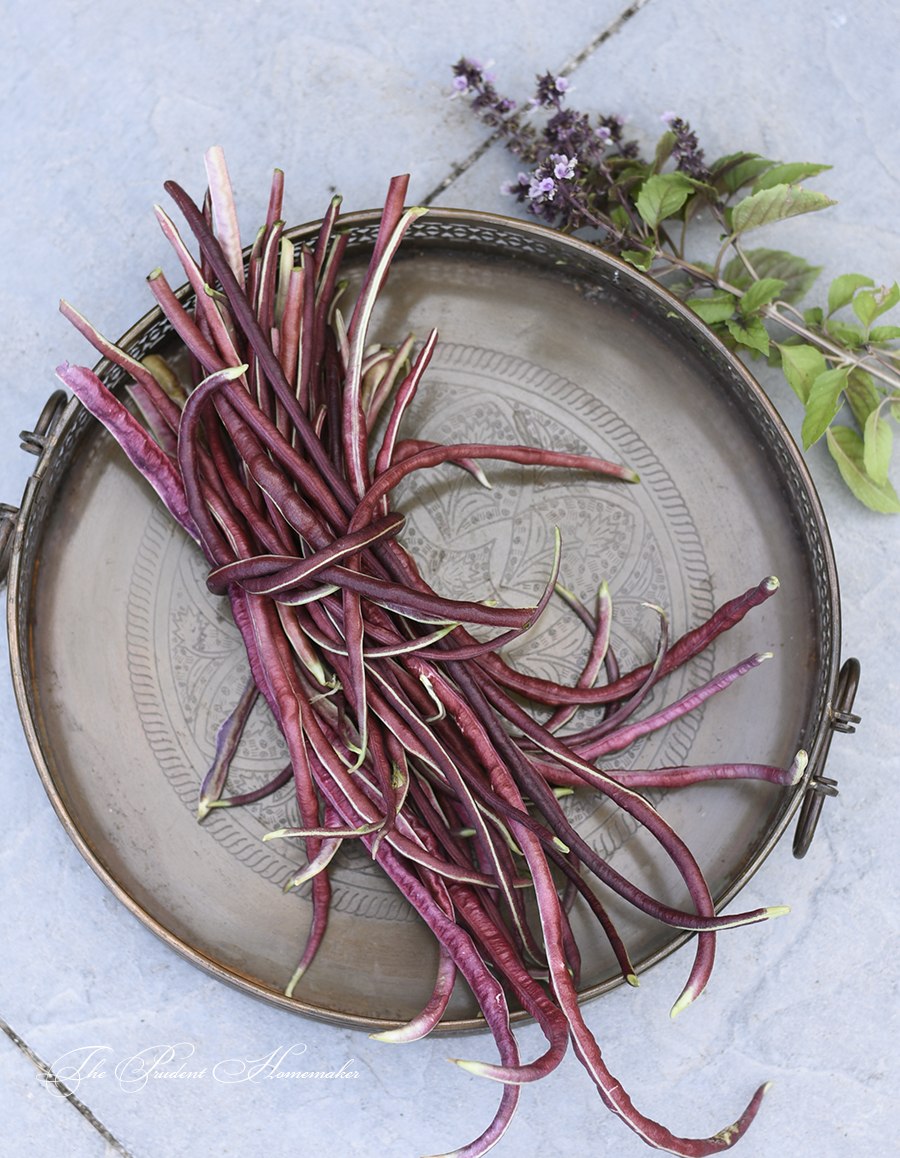 I cut red noodle beans, Armenian cucumbers, rosemary, Genovese basil, chives, and green onions from the garden. I picked some teeny-tiny cherry tomatoes from the garden as well to use in a pasta salad. They are so tiny that I put a slice of olive in with them so you can see how little they are; they are the size of blueberries! The heat we have here in summer makes them stop flowering, or if they do flower (these are in afternoon shade and just started flowering recently) they are still super tiny because of the heat.
The Armenian cucumbers do well in our heat, growing huge. I still don't get a lot of them when it's really hot, so I am happy to have them grow to great lengths, as they don't get bitter like other cucumbers and can grow as long as my arm. This means I have a lot of cucumbers to eat but not always enough to make pickles (as sometimes just one or two are ripe). This week we ate them sliced thin in vinegar, cut into sticks and dipped in ranch dip made with Greek yogurt, put in green salads, and chopped in pasta salad.
I went to the library and checked out a large number of books with my three youngest daughters and my 2-year-old son.
I opened the windows and doors in the early mornings to cool down the house for a couple of hours each morning.
I used my solar oven to cook three meals. One of the things I cooked was a large batch of pinto beans. I made bean burritos one day with them. I made a huge pan of bean enchiladas with them another day, which we ate over three days. My corn tortillas were a little old (so they would break rather than roll), so I made the enchiladas lasagna-style, layering the tortillas flat instead and layering the filling between with three layers of tortillas. I also find this is a great way to make enchiladas when you don't have enough tortillas, as it uses just 18 corn tortillas in a 10 x 13 pan. You'll need more filling, but if you're using beans for all or part of it, it is still quite frugal.
When I cooked baked potatoes, I cooked enough to have leftovers for the next day. I usually cook 10 pounds for our family, but recently we have upped it to 15 pounds at a time, saving gas for the oven (and not heating up the house) and giving us more leftovers. Leftover baked potatoes cook really quickly as cubed potatoes on the stovetop with onions for breakfast, a great side dish to a fried egg or two. It also means use you can use less oil (I only use a couple of tablespoons for a 5-quart pan full of potatoes) which means less money and fewer calories.
My son went to a thrift store with his uncle. He found a pair of cowboy boots there that he liked. One boot was priced at $35 and the other at $15. He tok them up to the register and asked how much. They told him $5, so he bought himself a pair of boots.
My mom went to a couple of community garage sales and picked up a few items for me, including a polo shirt for my eldest son ($2) and ten brand-new wide mouth quart-sized canning jars for $0.40 each.
What did you do to save money last week?