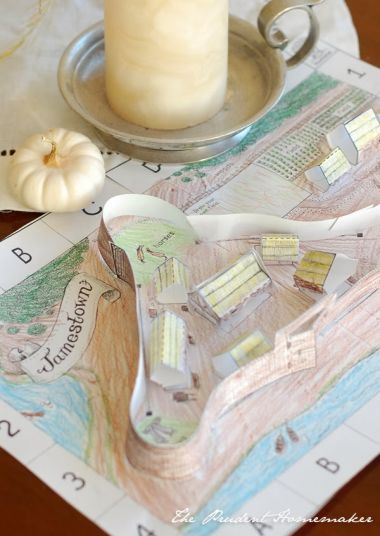 I printed some Thanksgiving coloring pages from free Dover Sampler pages that I had saved over the years. I also printed a 3-dimensional project for the children to complete on Jamestown. This was from a book that I purchased form Scholastic Teacher Express when their e-books were $1 each, and they had a $10 off code (a few years back) so the books were all free. I can print the projects whenever I need them.
I picked three Meyer lemons, thyme, parsley, basil, sage, rosemary, marjoram, and arugula from the garden.
I cut red zinnias, asparagus berries, lemon branches, and Thai basil flowers for flower arrangements for Thanksgiving.
My husband fixed the light switch with graphite that we already had.
I made rosemary olive oil bread, pumpkin pie, lemon meringue pie, two pecan pies, mashed potatoes, balsamic orange vinaigrette, and stuffing.
A friend gave me a boneless ham that her husband smoked. I sliced it on my slicer for sandwiches. We had ham sandwiches on rosemary olive oil bread for several days. We had turkey and Thanksgiving leftovers as well.
We were given 10 pounds of potatoes from someone else.
I used a free shipping code to order the children's science gifts (my grandmother gave me money and asked me to order them).
I used a 30% off coupon from Amazon to purchase a schoolbook. I used my credit to order two other books for school and a book from my grandmother to Ivory for Christmas to make sure I met the free shipping minimum.
I combined a 10% off sale with a 30% off coupon code, along with 17% cash back from Ebates to order a pair of black heels for myself. Shipping was free.
I kept a coupon that came in the mail this week for Harbor Freight. My husband needed a tool and decided to see if they had it on sale on Saturday (he checked out their online ad). They had it on a huge sale, so he drove over there. I remembered the coupon and gave it to him. They took off the coupon amount (25%) on top of the sale price. There was a second coupon in the ad for a free tape measure with any purchase. He used it for a tape measure for Ezrom. We will make that one of his Christmas gifts.
I used codes to order 25 free4 x 6 photo prints from Walgreens and one for a free 8 x 10. For the 8 x 10, I ordered a picture that I downloaded for free from The Graphics Fairy of the Eiffel Tower. I made some changes to it in Photoshop first. I will put it in a frame that I already have and give it to Elsa for Christmas.
I used a $10 off $10 coupon to purchase a pair of slippers and some headbands for Elsa. I will most likely change the headbands in some way. This is the kind I like for the base.
My husband and I watched some television shows for free on Hulu.
I used thread and a wing needle to hemstitch inexpensive napkins (that I already had) for Thanksgiving.
My husband cut his hair and both boys' hair.
My husband took Cyrus for an eye exam, and I ordered glasses online for him through Zenni Optical. I went through Ebates first to get cash back. I ordered two pairs so that we would have a backup for him. Shipping was the same price for two pairs as it was for one pair. The two pairs were $24.95, total, shipped to me.
What did you do to save money last week?