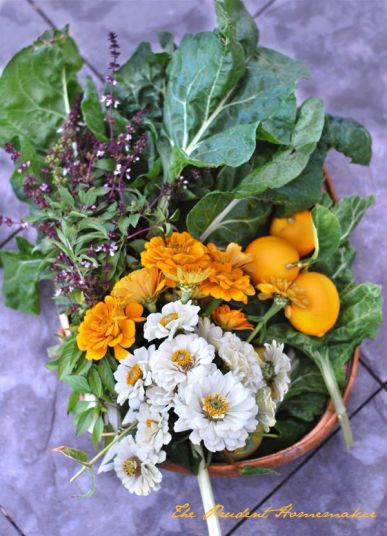 This post contains an affiliate link.
I cut Swiss chard, white and yellow zinnias, and Thai basil flowers from the garden. I arranged the zinnias and basil in blue canning jars on my table for centerpieces that lasted all week. I also picked the first of the Meyer lemons from one of my lemon trees (just the ones you see in the photo; the others are still ripening and will last longer if left on the tree a bit more).
I made two lemon meringue pies using lemons from my garden and I made a shortening crust, which is less costly than a butter crust.
I planted more seeds in the white garden. I thinned foxglove seedlings and transplanted them to other places in the white garden. I also transplanted parsley seedlings in the white garden to another spot.
I listened to music on Pandora.
I watched a show on Hulu.
I accepted some free pillows and some unmatched bed linens from my mom, who is going through her closets. I chose a large piece of unbleached muslin, a pink sheet that I can repurpose for clothing, and a red pillowcase that I will repurpose for a toddler bib. She also gave me some plain barrettes (much like the ones I used for the wool bows) and some bobby pins that she wasn't using.
I sewed the button back on a jumper and mended holes in the jumper.
I sewed a button from my button jar onto the pair of shorts that I bought for Cyrus in October at a garage sale. I didn't notice the missing button; only that the shorts were like new. Adding a button was simple and it didn't cost me anything.
I sewed a button onto Liberty's dress to replace the one that broke.
I mended a pillow cover.
I cooked a large pot of kidney beans and made chili on Halloween. We had company for dinner and they brought cornbread.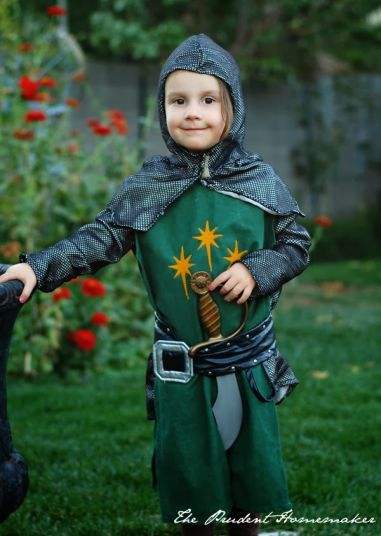 Elsa had so many choices for dress-up clothes and costumes in her size. At the last minute, she decided to be a knight and wore "chain mail" and a tunic that I had made as a Christmas gift for Cyrus years ago, using Halloween clearance fabric (right now is the time to find specialty fabric like this on clearance at Joann's). The belt and sword were from other costumes that had been given to us.
On Halloween, the children wore costumes that we already had. I didn't have to buy anything for this year. I gave out candy that had been given to us. We didn't carve any pumpkins; I just turned on the lights and called it good.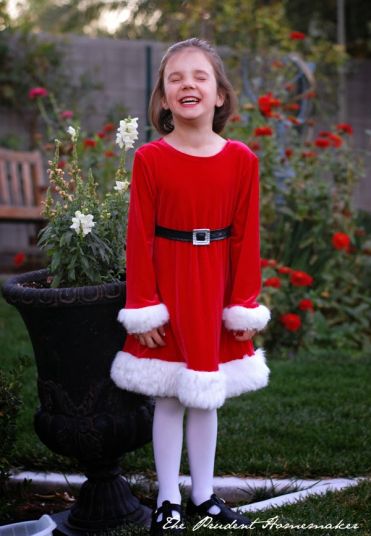 Wren went as Santa Clause in this garage sale dress that was given to me, and a belt from another costume that we had. We had a hat in our Christmas box but she didn't want to wear a hat.
I used the water at the bottom of the pan that was left after steaming the chard to water a potted orange tree.
My husband washed the windows.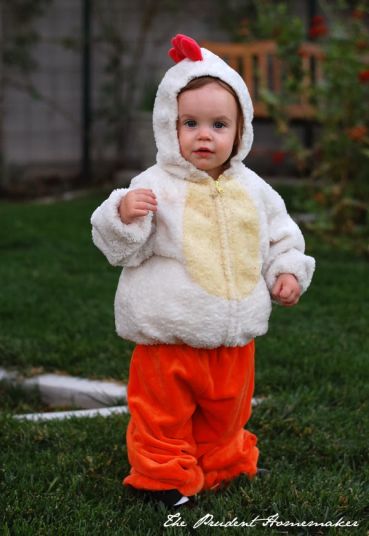 We taught her to cluck like a chicken. I actually bought this costume at the store for Ezrom when he was her age.
I started working on Christmas gifts using items I had on hand.
What did you do to save money last week?