Last week was a super busy week and I didn't get to post my goals for the week. I did get three bathroom drawers organized (Wren and Liberty organized one of them) and went on one bicycle ride. I took the slats off of two benches and decided which slats from three benches were in the best shape to make one bench. I planted some things in the front garden (replacements for dead plants). I worked on Winter's blue dress, sewed two rice bags and covers for the freezer (these are used for putting on bruises, like an ice pack; they are made with uncooked rice), sewed a
wheat bag and cover
(used to heat in the microwave for muscle aches; they are also good for warming a bed in cold weather if you live in a place that gets cold in the winter), and mended a hem. I canned 13 quarts of tomatoes from tomatoes that were given to us, and I spent some time working on organizing the pantry. I spent a lot of time helping the children with their schoolwork as well.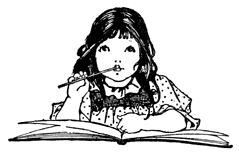 Sewing Goals:
1. Finish Wren's dress
2. Finish Winter's blue dress
3. Finish the hot pads I started in January
Garden Goals:
1. Sand slats to fix my garden bench.
2. Prune espaliered apple trees
3. Add some manure to beds; rake beds and put drip lines back down afterwards
Website and Blog Goals:
1. Photograph and edit photos for the next post in the 40 cents a day series
2. Photograph and edit photos for another post
2. Write Frugal Accomplishments post
Organizational goals:
1. Work on organizing the pantry
Personal/Family goals:
1. Go to the temple with my husband (I am so excited to have a chance to go together; we have a young woman who is babysitting for free for a service project, so I have a babysitter so that we can go together!)
2. Go on three bike rides
3. Give haircuts to both boys