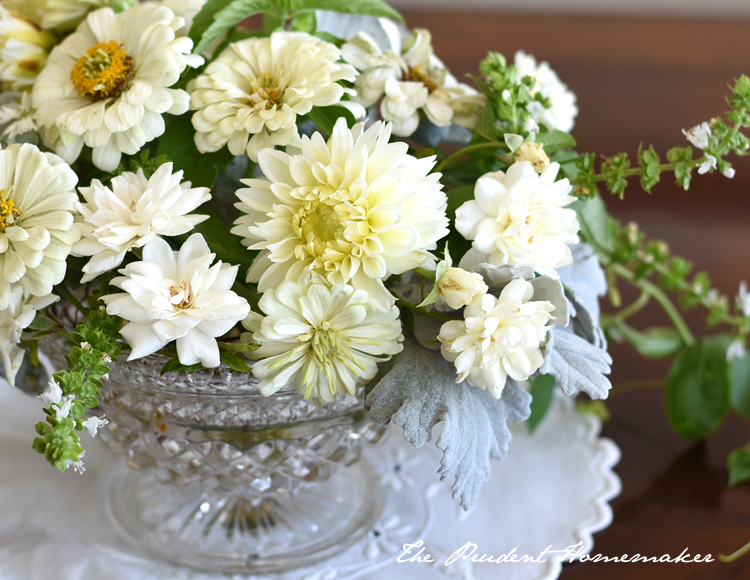 I started writing my goals for the week on the blog at the request of several readers. Since these are, of course, personal goals, I'm not sure how helpful they are to you as readers. Please let me know if this feature of the blog is something you'd like me to continue to include.
There are several things on this list that were on earlier lists, that I still need to finish.
The key to getting it all done, of course, is to work hard, avoid distractions (like the internet!) and to use my time wisely.
It's 110º(44ºC) today. It will be a hot week!
Organization/Preparation:
1. Prepare the talk I'll be giving tomorrow night in town
2. Prepare slide show for tomorrow night's talk
3. Make phone calls and get things worked out for Winter's seminary class
4. Work on new plan for morning schedule and weekly schedule
5. Make visiting teaching appointments
6. Put away dried herbs
7. Organize and clean kitchen counters
Gardening:
1. Pull weeds from where green onions are growing
2. Plant more green onion seeds
3. Plant beet seeds
4. Pick Asian pears
5. Pick Bartlett pears
6. Prune hedges in the backyard
7. Cut flowers for a friend
8. Cut flowers for the house
9. Pick apples
Shopping/Errands:
1. Order some items for our 72-hour kits from Amazon
2. Order items from for our 72-hour kits from Ebay
3. Order new glasses for Liberty From Zenni Optical, going through Ebates first for 4% back.
4. Trip to Walmart
5. Trip to Winco
6. Trip to post office to mail baby gifts
7. Trip to nursery to inquire about their schedule for getting in fall vegetable plants (so I can share it tomorrow night when I speak)
Sewing:
1. Finish sewing baby shoes for a gift
2. Make baby bow barrettes for a gift
3. Make flower barrettes for a gift
4. Sew table runner
5. Sew reinforcements into a tarp. Afterwards, sew loops onto the tarp to make it possible to tie it down
Personal Goals:
1. Read at least 2 chapters of The Book of Mormon each day in French
2. Study past tense and future tense in French using the workbooks I picked up from the library
3. Complete at least 2 sections each day on Duolingo
4. Walk at least 30 minutes 5 mornings this week
5. Attend the temple
6. Take flowers to my friend
Cooking/Preserving:
1. Slice and dry pears
2. Cook dinner for the missionaries on Friday
Blog Goals:
1. Take photos of finished baby gifts
2. Take photos for 3 other upcoming posts
3. Finish at least 2 blog posts
Ezrom has his Cub Scout pack meeting this week as well, which is a swimming party for all of the families, so I have that as well to attend this week.
I think that's more than enough for the week! I'd love to add "Sew a new apron for myself" to the list, but I doubt I'll be able to fit that in as well. Hopefully next week!