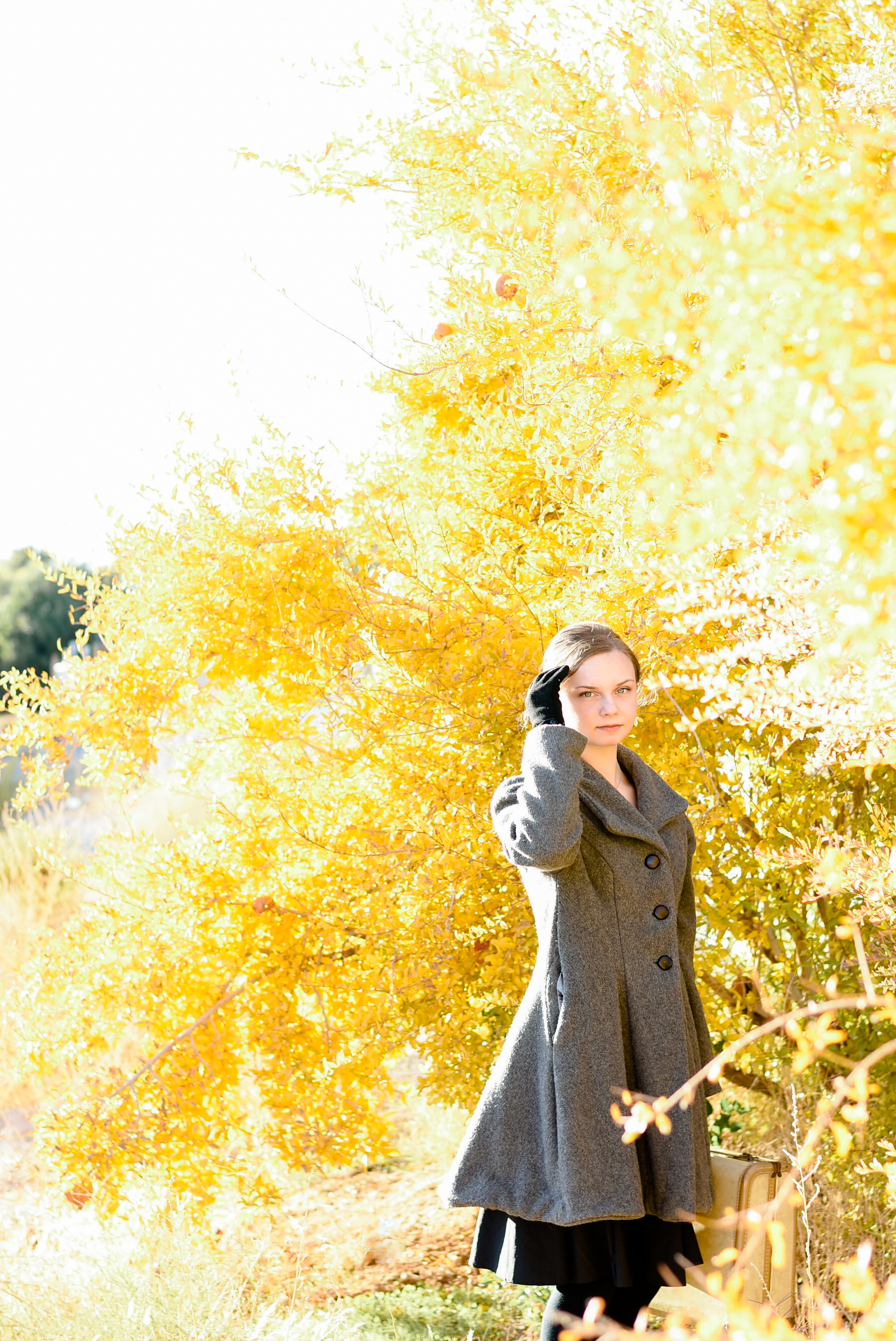 Winter has been wearing this coat for the last two winters. She wanted a vintage-looking wool coat that was very warm. She couldn't find what she wanted, so she chose to sew one.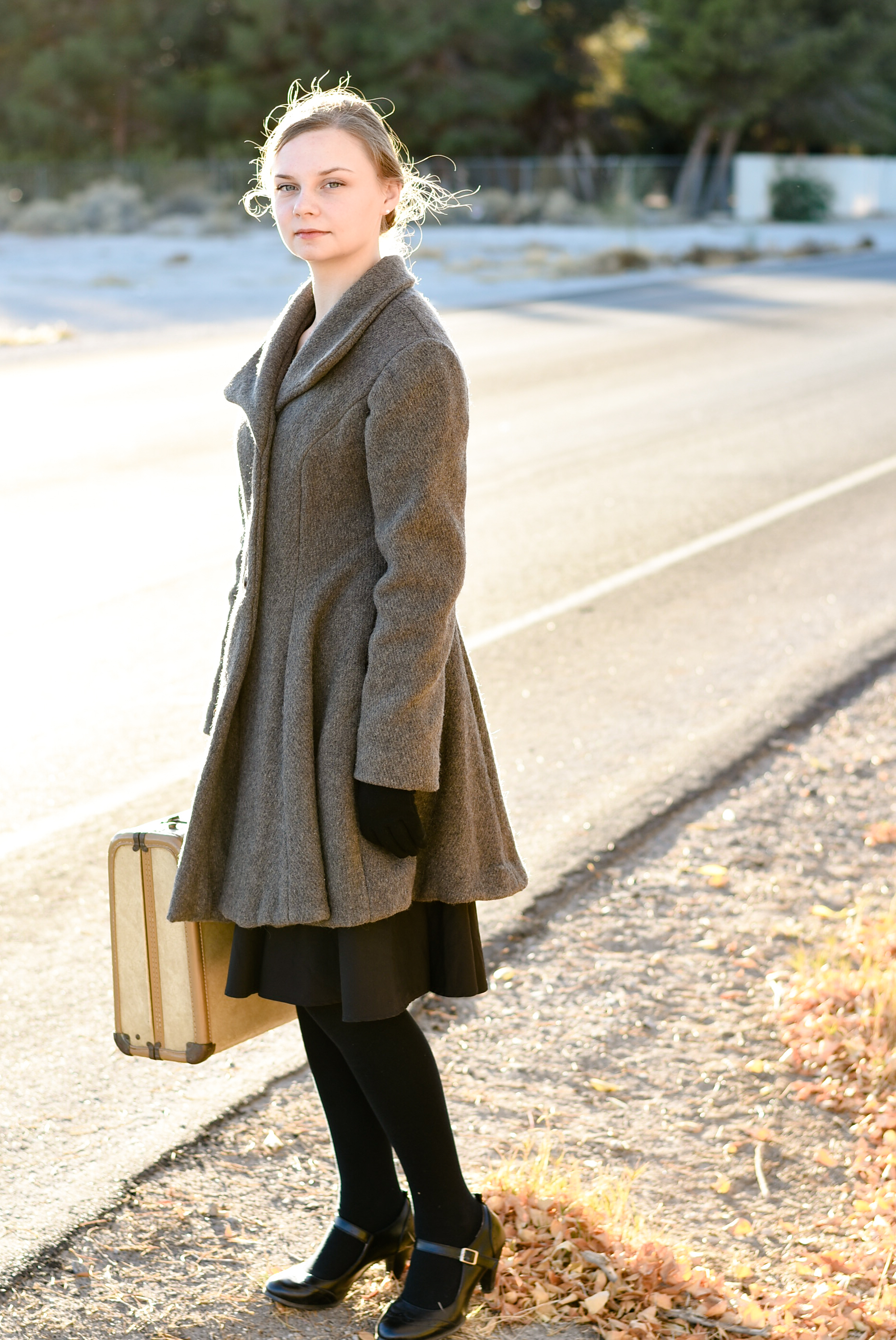 She could not find a coat pattern to sew she wanted either, so she chose to adapt an out-of-print dress pattern (Vogue 1149) that was the closest shape to what she envisioned, with princess seams and a large collar. She chose a larger size than she would wear in a dress so that it would work with thick fabric as well as fit over her clothes.
She chose view A for its collar and long sleeves. She wanted a very specific collar shape, and this pattern came closest to what she had envisioned. She took in the collar and curved it more.
She altered the pattern quite a bit.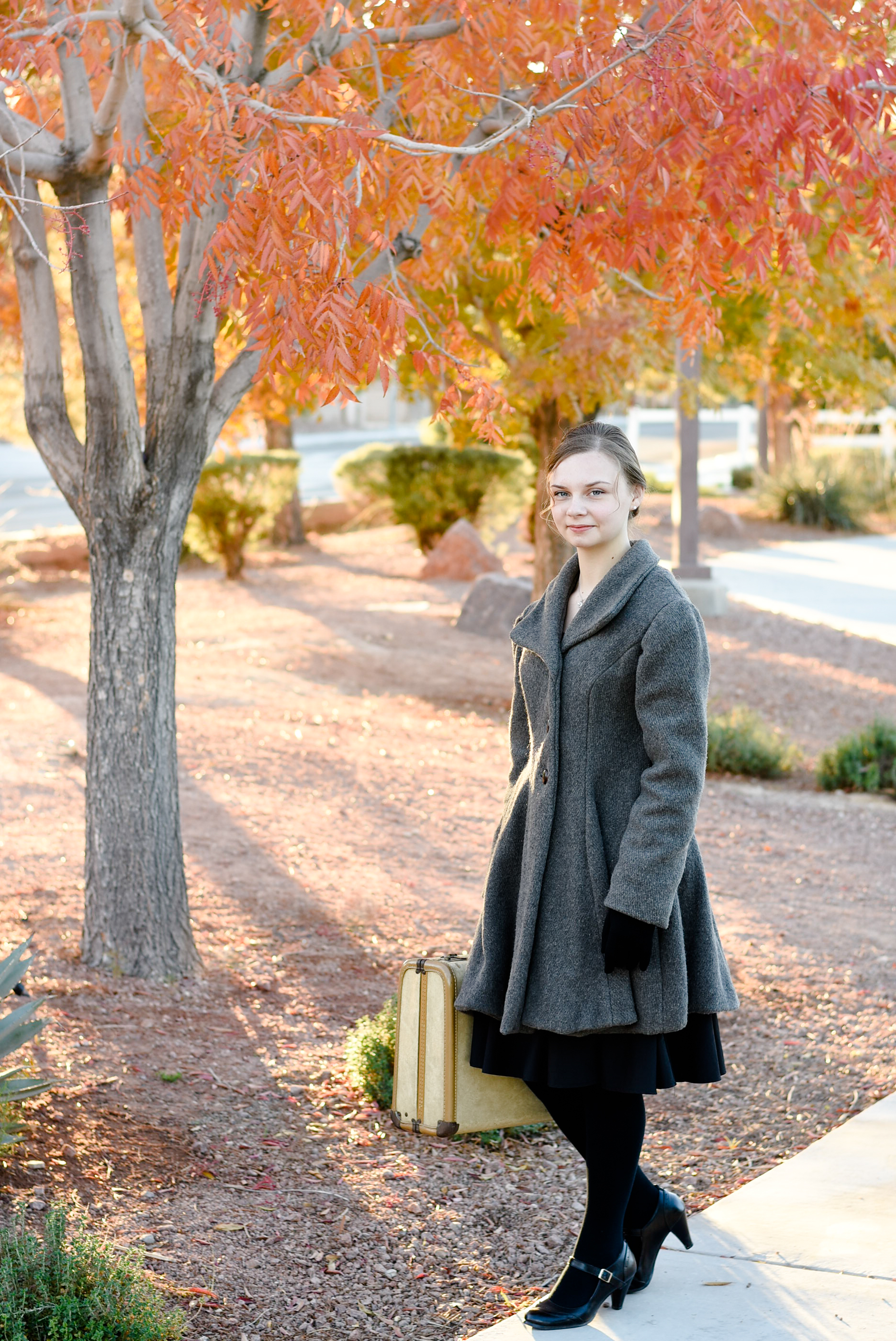 The original pattern was for a mid-calf dress, which on her was ankle-length. She shortened the pattern to be right above her knee.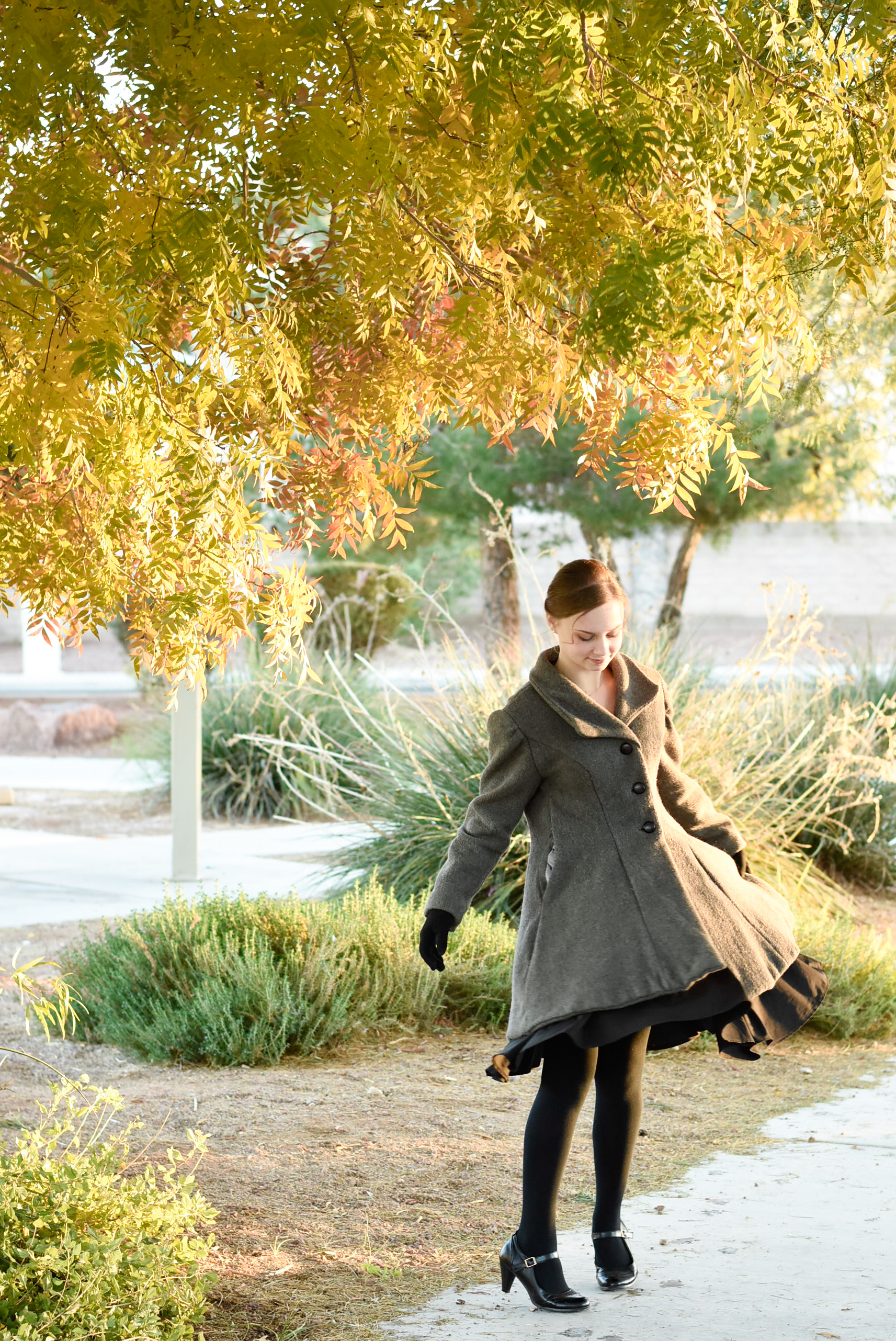 She took in the waist and added more flare to the skirt, to give it more of an hourglass shape and to make it easier to move in the coat. She rides her bike in a skirt with her coat over 5 miles each day.
The skirt is nice and full, perfect for wearing over a full skirt or dress, and perfect for twirling.
She couldn't find fabric heavy enough to make her coat, so she instead bought two 100% wool blankets from Amazon (they were $24.99 each when she bought them).
The buttons are from Hobby Lobby, purchased with a 40% off coupon.
The lining is silver lining fabric, bought on sale from Hobby Lobby for $3.49 a yard.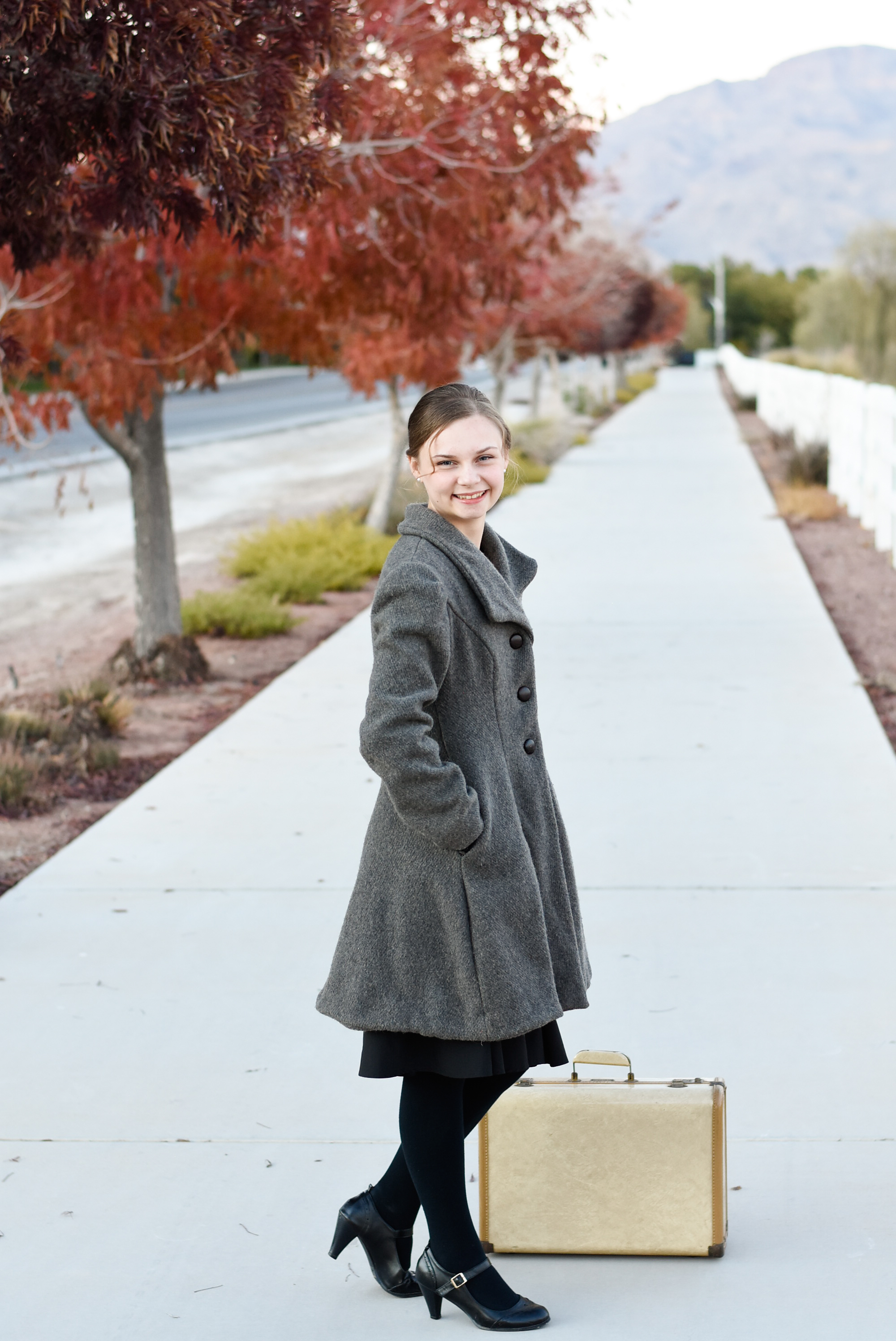 She loves that her coat has an actual silver lining.
The total cost of materials for the coat was $64.43.
If you're willing and able to put in the hours to sew, you can make just what you want!
She'll need this warm wool coat a lot more often, because her university school of choice reopened their admissions for both spring and fall terms.
Monday night, Winter applied to the university.
Tuesday afternoon, Winter received her acceptance!
She will leave for school in April!!! She will be attending Brigham Young University-Idaho and will be studying apparel entrepreneurship.
Disclosure: As an Amazon affiliate, I earn from qualifying purchases made through my links. This means that I earn a small percentage from any items you place in your cart and purchase within 24 hours after going to Amazon from one of my links (i.e., it doesn't have to be an item I have linked here). If you're going to be making a purchase from Amazon, I thank you for using my links to support this site!