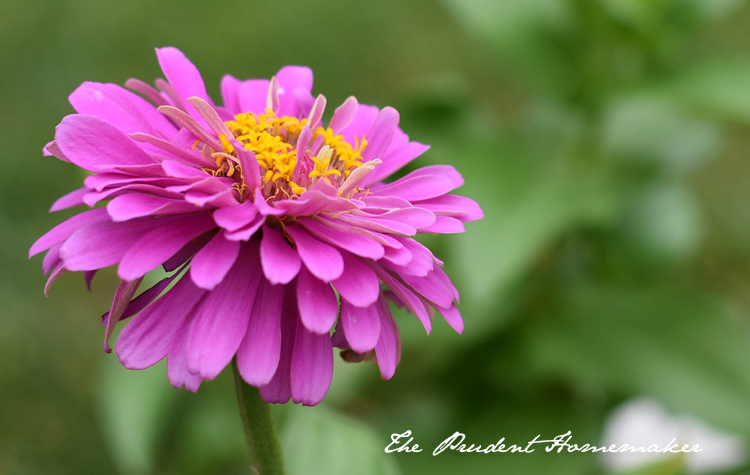 I cut zinnias from the garden to enjoy inside.
I harvested more Armenian cucumbers from the garden! I saved seeds to plant again next year.
I purchased two heads of cauliflower for $.99 a head the week before last (normally they're around $2.49 to $3.99 here so I was very excited) to use in my mixed pickles. I was able to use up some carrots from the fridge and some onions from the pantry as well as using the cucumbers from the garden. I canned quarts of pickles. I also canned pints of relish.
I also harvested three butternut squash and a few Lemon Boy tomatoes from the garden.
Because it was quite humid, I was able to collect 3-5 gallons of water each day Sunday through Wednesday from the condensation from the air conditioner that I used to water potted plants. I can fit a one-gallon ice cream bucket under the pipes that stick out of the house near the ground, so when I go out to the recycle bin to toss something during the day, I check the bucket and empty it on the plants if it is full or close to full. I also collected shower warm-up water in a three-gallon bucket and used it to water potted plants as well.
I printed free geography worksheets for my third-grader.
I read an e-book from the library. I don't know that I would recommend this one, as it was just okay and the ending/conclusion wasn't there (the story just abruptly ended, leaving the reader left to imagine how it ended).
I purchased two winter dresses for myself online on clearance and also received free shipping.
I ordered some Christmas presents now, taking advantage of free shipping.
I looked over my grocery list and what I really need. I checked those things on my list for each store. I will get them when I need to go shopping again. I read the ads and there was nothing I needed this week on sale. I had hoped to buy a couple of cases of canned mandarin oranges on the caselot sale, but they were not included this time, so I did not need to go shopping.
I used some shampoo and conditioner from a hotel that my mom had given us.
What did you do to save money last week?
Would you like to support my site?
 As an Amazon affiliate, I earn from qualifying purchases made through my links. This means that I earn a small percentage from ANY items you place in your cart and purchase within 24 hours after going to Amazon from one of my links (i.e., it doesn't have to be an item I have linked here). 
If you're going to be making a purchase from Amazon this week, I thank you for using my links to support this site!